Alumni at the Senedd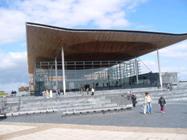 The Senedd
As the Welsh Assembly reconvenes following the election, ten Aberystwyth University alumni (five Plaid Cymru, four Labour and one Liberal Democrat) are taking their seats in the Senedd.
Four of the ten AMs were newly elected in the election on 5th May with the remaining six returning for another term in Cardiff Bay.
The ten Assembly Members join thirteen Aberystwyth University alumni elected as Members of Parliament during the 2010 General Election.
Professor Noel Lloyd, Vice Chancellor of Aberystwyth University said "I am delighted to note that Aberystwyth University alumni make up a sixth of the Welsh Assembly. I, and everyone at the University, congratulate them all on their election and wish them every success in their political career."
Julian Smyth, Director of Development and Alumni Relations at Aberystwyth University said: "We have always known in Aber just how special our former students are, but it is truly wonderful to see how much, first in the Westminster elections and now for the Welsh Assembly, the general populace agrees with us."
Aberystwyth alumni AMs
Christine Chapman AM (Labour) has been the Assembly Member for Cynnon Valley since 1999. Ms Chapman is a BA Classical Studies and History graduate (1978), during the last session of the Government she was the National Assembly's representative on the Committee of the Regions in Brussels and Chair of the Assembly Petitions Committee.
Alun Davies AM (Labour) was originally elected as a regional member on the Mid and West Wales list in 2007 and as the AM for Blaenau Gwent in May.  A BSc Econ graduate of International Politics (1986), Mr Davies was recently appointed as the Deputy Minister for Agriculture, Fisheries, Food and European Programmes.
Vaughan Gething AM (Labour) is a newly elected AM for Cardiff South and Penarth.  A Law graduate (1999), Mr Gething was a partner with Thompsons Solicitors and was the youngest ever Wales TUC President during 2007/8.
Llyr Huws Gruffydd AM (Plaid Cymru) was elected as a Regional AM for North Wales during the 2011 election.  A BA Welsh (1992) graduate, Mr Huws Gruffydd worked as the Wales Communications Officer for the National Trust.  He is currently the Shadow Minister for Rural Affairs.
Bethan Jenkins AM (Plaid Cymru) was re-elected to the Assembly as an AM for South Wales West.  She was originally elected to the Assembly in 2007 at the age of 26, the youngest Member of the Assembly.  Ms Jenkins graduated with a BScEcon in International Politics and International History in 2005.  She is currently the Shadow Minister for Heritage, Welsh Language & Sport.
Carwyn Jones AM (Labour) is the First Minister for Wales.  He was elected to the Assembly in 1999 as the Member for Bridgend having previously been a barrister specialising in Family, Criminal and Personal Injury law.  Mr Jones is a LLB graduate in Law from the Department of Law and Criminology (1988).
Elin Jones AM (Plaid Cymru) was re-elected as the AM for Ceredigion having first being elected in 1999. During the previous session of the Assembly, she was appointed as the Rural Affairs Minister. Ms Jones graduated with an MSc in Agricultural Economics from Aberystwyth University in 1989 and is now the Shadow Minister for Health.
Aled Roberts AM (Liberal Democrat) is one of the new Regional AMs for North Wales.  A Law graduate (1983), Mr Roberts worked for much of his career as a solicitor and partner of Geoffrey Morris and Ashton law firm in Wrexham before becoming the Leader of Wrexham County Council in 2005.
Rhodri Glyn Thomas AM (Plaid Cymru) was first elected in 1999 as the Assembly Member for Carmarthen East and Dinefwr.  A BA graduate of Welsh and Education (1975) he is the Plaid Cymru Shadow Minister for Europe, Local Government, Communities & Transport.
Simon Thomas AM (Plaid Cymru) holds a BA in Welsh and Education (1985) and a DipLib (1988).  Mr Thomas was the MP for Ceredigion from 2000-2005, following which he was employed as a Senior Special Advisor to the Welsh Government.  Mr Thomas is a new AM for the Mid and West Wales Region and is currently the Shadow Minister for Education, Higher Education & Skills.
AU13011