The Creative Industries: opportunity or oxymoron?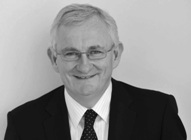 Pat Loughrey
The former Director of BBC Nations and Regions, Pat Loughrey, will deliver a public lecture at Aberystwyth University on Thursday 9 June.

In the lecture, "The Creative Industries: opportunity or oxymoron?", he will address how and why small-scale 'creative' work can be regarded as an 'industry' and who benefits from this?
The lecture will examine the tension in the oxymoron posed, taking in aspects of the history of creativity, how creativity came to be regarded as an industry, and what links these developments to the role and value of art and culture in society. The lecture will also consider what the emergence of the creative industries means for universities and for what is being created, especially in a time when 'impact' has taken on a greater significance.
Pat will also draw on his long career in the BBC to describe the, often tense and ambivalent, relationship between the academy and the mass media.
The lecture takes place at the Old Hall of the Old College and will commence at 7.00 p.m.
Pat was the Director of BBC Nations and Regions from 2000 until 2009 a role in which he was responsible for the BBC's television, radio and online programmes and services in Wales, Scotland, Northern Ireland and the 12 English regions.

He also spent three years as Head of Project North which includes the creation of MediaCityUK, a new city dedicated to media production.
Originally from County Donegal in Ireland, he studied at the University of Ulster (BA Hons Contemporary History), The Queen's University of Belfast (MA History – Rural Anthropology) and Trent University, Ontario (Doctoral Research Fellowship).
His editorial highlights include Doctor Who, Torchwood, God On Trial, Murphy's Law, Tribe, Still Game, Facing The Truth and Inside Out.

He was appointed Warden at Goldsmiths in 2009.
AU13511