Wales Book of the Year Award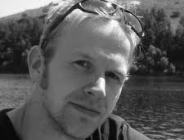 Tyler Keevil
An Aberystwyth PhD student has achieved a literary success which puts him in the company of some of Wales' most distinguished writers.

Tyler Keevil, who is studying Creative Writing, has been chosen for the longlist for the English language section of the prestigious Wales Book of the Year Award, which has been won in the past by Philip Gross, Dannie Abse and Owen Sheers.

The longlisting is for his debut novel, Fireball, published by Parthian last year, which tells the story of a group of teenagers over one long hot summer in Vancouver, leading to a dramatic and violent climax. 
Tyler, who came to Wales from Canada in 1999 and lectures in creative writing at the University of Gloucestershire, said: "I'm very grateful that readers have taken to Fireball. The response has been super positive. I've had a lot of support along the way, from my editor Lucy Llewellyn, and also my teachers at Aberystwyth, most notably Dr Matthew Francis (who's currently supervising my PhD). It's both exciting and humbling to have made the longlist for Wales Book of the Year".
Now Tyler is keeping his fingers crossed for the announcement of the three-book shortlist in May. The eventual winner, chosen in July, will receive a cheque for £10,000.
AU9511