Oats research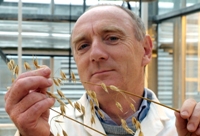 Dr Athole Marshall
Scientists at IBERS are taking a leading role in tackling diseases on an important crop – without using chemicals.
The project will help oat growers produce better and bigger crops while reducing their impact on the environment.
By exploiting the genetic variation that exists within oats and developments in genomic techniques, staff at the University's Institute of Biological, Environmental and Rural Sciences (IBERS) will help develop oat varieties with improved resistance to the diseases crown rust and mildew.
Crown rust can reduce the yield of an oat crop by 50% and the two diseases also affect the quality and value of the grain.
"Developing resistance within varieties is more desirable than using chemicals," explained one of the research leaders, Dr Athole Marshall, head of the acclaimed oat breeding programme at IBERS.
"The European Union is limiting the use of fungicides on oats and using marker assisted breeding will have far less of an impact on the environment.
"Our task is to develop new varieties that can resist these diseases whilst still providing the levels and quality of crop that farmers and their customers need."
IBERS is one of the partners in the five-year project that is co-funded by the Technology Strategy Board – the others are Senova Ltd. and the National Institute of Agricultural Botany and The Arable Group.
IBERS' role in the project has been welcomed by the Institute's Director, Professor Wayne Powell: "This is another example of how our scientific research expertise can offer benefits on many different levels – to the environment, to farmers, to human health and the public in general."
AU5311