Professor John Barrett 1943-2011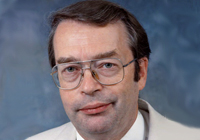 Professor John Barrett
It is with great sadness that we report the death of John Barrett, Professor of Zoology and a former Pro-Vice Chancellor at Aberystwyth University.
Professor Barrett was originally from Chippenham in Wiltshire. He studied at Cambridge University, graduating in Zoology in 1965, and was awarded a PhD for his work on parasitology in 1968 and an MA 1969. A further MA followed in 1971, this time from Oxford University.
He joined Aberystwyth University as a Lecturer in 1973, was promoted to Senior Lecturer in October 1982 and appointed Professor of Zoology in October 1983. In 1985 he was awarded the C A Wright Medal for his outstanding contribution to the field of parasitology.
In January 2000 he was appointed Pro Vice-Chancellor (Student Affairs), a post he held for two years until his appointment as Pro Vice-Chancellor (Academic Affairs). In January 2006 he was appointed Acting Head of the Sport and Exercise Science Department, a post he continued to hold on a part-time basis until July 2007, following his retirement in July 2006.
Professor Barrett continued to work on a part time basis at IBERS, teaching and demonstrating until August 2009. He kept in touch with research activities in parasitology until late 2010.
Speaking following the announcement of Professor Barrett's death, Professor Noel Lloyd, Vice-Chancellor said:
"The news of John's death is a cause of great sadness. I was a great admirer of his abilities as a leader, a person and a scientist. His contribution to his department, the faculty of science and to the University in general was enormous: he was fully committed to the University. As well as conveying the appreciation of the University I would like to note my personal appreciation and acknowledge his friendship. He will be sorely missed."
Professor Barrett died on Wednesday 30th March. He is survived by his wife Dr Penny Barrett and two daughters, Sara and Kate.
The funeral will take place at Aberystwyth Crematorium at 12 p.m. on Wednesday 6th April. Everyone is invited for tea at Plas Antaron after the service.