IBERS Innovations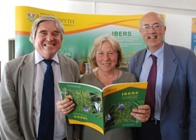 (l to r) Professor Mervyn Humphreys, Ms Jo Spikes and Mr Stephen Smith
Tuesday 22 July, 2008
IBERS Knowledge-based Innovations

The 2008 edition of IBERS Knowledge-based Innovations was launched by Aberystwyth University at the Royal Welsh Agricultural Show at Llanelwedd on Tuesday 22 July.

IBERS Knowledge-based Innovations is the latest incarnation of IGER Innovations, which was published annually by the Institute of Grassland and Environmental Research up until the merger with Aberystwyth University in April 2008.

Edited by Mr Stephen Smith, Ms Jo Spikes and Professor Mervyn Humphreys, the latest edition features 9 articles that provide an overview of some of the work currently being done at IBERS – the Institute of Biological, Environmental and Rural Sciences.

They touch on economic considerations of biodiversity, ecosystem services and human welfare, the effect of management changes on the uplands, the impact of ruminants (sheep and cattle) on the environment, how plant breeding can help cope with climate change using basic genetics and genomics, the potential for bioenergy and bio-renewables from grasses, how parasite proteins may be key factors in developing novel control strategies, and the development of a laboratory model to test natural products for healing in horses. Finally there is a brief look back at the history of agricultural, biological and land-based studies at Aberystwyth.

Writing in the introduction, IBERS' Director Designate Professor Wayne Powell, sets out some of the challenges faced by the world today and outlines some of the ways in which IBERS will contribute to taking these problems.

"This is the most wonderful time to be a biologist. Spectacular advances in our understanding of how living systems work and interact with the environment at the levels of cells, molecules and populations have changed the fundamental characteristics of the bio-sciences. In parallel with these developments, society is seeking solutions to the major challenges facing our planet: climate change, food supply, water and energy security, together with environmental sustainability," he said.

"Procedures to address these challenges will rely on the bio-sciences and their associated technologies, combines with the knowledge-based economy of the 21st century. IBERS is exceptionally well positioned to capture these emerging opportunities by connecting discovery and translational research to ensure economic and social impact.

"IBERS scientists recognise that we live in a period of rapid and accelerating environmental change that threatens both national interests and global security. IBERS will address basic questions associated with the impact of rapid changes in the environment on biological and agricultural systems, considering how such changes can be dealt with to ensure that food production and ecosystem services are maintained in sustainable ways," he added.

Copies of IBERS Knoweldge-based Innovations are available from the Stapledon Library & Information Service, IBERS, Aberystwyth University, Gogerddan, Aberystwyth SY23 3EB. Tel: 01970 823000 Fax: 01970 828357 E-mail: gogstaff@aber.ac.uk.