Dolphin watch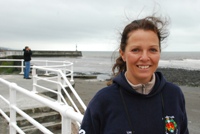 Sarah Lister
Tuesday 1 July 2008
Dolphin watch
A team of thirty volunteers brought together by researchers at Aberystwyth University are working with the conservation group Friends of Cardigan Bay on a detailed study of Bottlenose Dolphins in the waters off Aberystwyth.
With an estimated resident population of between 230 and 300, Cardigan Bay is believed to be home to the largest population of Bottlenose Dolphins in the UK.
The study, led by masters' student Sarah Lister, is building up a detailed record of their movements off the town's south beach, between the harbour entrance and castle rocks.
Sarah's work is supervised by Dr. Jo Porter from the Institute of Biological, Environmental and Rural Sciences, and Phil Hughes, Chairman of Friends of Cardigan Bay.

"The main aim of the study is to monitor the movements of the dolphins rather than trying to focus on individuals or calculate how many there are," said Sarah. "We want to know where they spend most of their time and how they use the area."
From a single vantage point on the Promenade, near the lifeboat station, team members working in two hour shifts record dolphin sightings and their behaviour, for example whether they are travelling, leaping, diving, circling or chasing fish.
Work started on 2nd June and will continue until Thursday 31 July. Data is collected for six hours a day, seven days a week.
"As we build up a picture of what the dolphins are doing and where, we can visit these sites within the study area in the Friends of Cardigan Bay research vessel. By using underwater video techniques and diving in these areas we can look at the different habitats on the sea bed and get a greater understanding of which species of fish they like to feed on."
The study is also enabling researchers to correlate the presence of dolphins in the area with tidal cycles, sea and weather conditions, and the amount of water flowing down the Rheidol and Ystwyth rivers.
UK study
Data collected during the final week of June (21 – 28) by the Aberystwyth team has been added to National Whale and Dolphin Watch Week 2008 survey organised by the Sea Watch Foundation.
However, the full two month study will provide a valuable resource for the Friends of Cardigan Bay as the waters off Aberystwyth are not a designated Special Area of Conservation (SAC), like those found in the south (Cardigan Bay SAC) and the north (Pen Llyn a'r Sarnau SAC), and consequently very little research has been carried out here.
Sarah said; "This is a key time for protecting the marine habitats and species of Cardigan Bay. The Marine Bill, which is currently in draft form will set out how best to manage the sea's resources and increase the number of Marine Protected Areas, and the Government recently issued licences for oil and gas exploration in the area. We hope that this work will inform in some way the debates surrounding these developments."
In the more immediate future the biggest threat to the dolphins is posed by recreational boaters whose curiosity of these animals can unknowingly disturb them and maybe even prevent them from entering areas where they come to feed.
Phil Hughes Chairman of FoCB said;
"So far, dolphins have been sighted on 70% of days surveyed and it is becoming increasingly apparent that the coast off Aberystwyth harbour is an important nursery zone for mothers and calves as well as an important feeding area. Consequently we are calling on all boat users to behave in a considerate manner towards these animals, respect the Ceredigion Code of Conduct, and give them a wide berth and room to manoeuvre away from vessels.
As for when is the best time to see them, Sarah said; "Many local residents have commented the best time is around 8 in the morning, however, our results so far suggest that there is no regular pattern. There are a host of factors that influence when they come in to the harbour area. I suspect, for instance, that they are more likely to appear after heavy rainfall when salmon numbers are higher, though this remains unproven. As for sea conditions, they are certainly easier to spot when the water is calm."

Sarah is undertaking this study as part of her Masters in Managing the Environment which is run by IBERS, the Institute of Biological, Environmental and Rural Sciences. After many years of living in the US, France and Australia and working in the pharmaceutical industry, Sarah decided it was time for a change and fulfilled a long held ambition to return to Aberystwyth.