Blackboard is Aberystwyth University's online learning environment. Blackboard has a range of tools for communication, collaboration, assessment, feedback, reflection and content management, and provides an online space for activities to support learning and teaching. You can access Blackboard via http://blackboard.aber.ac.uk with your Aberystwyth username and password.
We provide a number of training courses, FAQs and Guides to help you get the most out of your modules in Blackboard:
All taught undergraduate and postgraduate modules must adhere to our Required Minimum Presence (RMP). The RMP is informed by recognised good practice in the sector as well as by feedback from AU students.
Blackboard Learn Ultra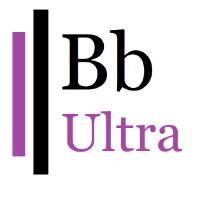 Welcome to our webpage on Blackboard Ultra. Blackboard Ultra is a project being run by the Learning and Teaching Enhancement Unit that sees us move from our current version of Blackboard, Blackboard Original, to a new version: Ultra.
On this webpage, you will find the relevant guidance and FAQs for staff and students to assist you with this move. As we move through the project, this webpage will be updated with further support materials.
We are also blogging about our move to Ultra to keep you updated on our progress. We will be using the weekly bulletin to communicate key changes, updates and information to staff and students.
Phase 1: January 2023, Ultra Base Navigation
Ultra Base Navigation will be enabled on our live version of Blackboard between 3 and 6 January 2023. During this time, you will notice changes to the landing pages of Blackboard. Whilst UBN offers a new feel to Blackboard, course functionality and content will remain the same. There may be some disruption as we get these pages live. Moving to Ultra Base Navigation will enable us to create training courses for staff to prepare them for the academic year 2023-24.
Phase 2: January 2023-September 2023, Ultra Courses
The Learning and Teaching Enhancement Unit will be working between January 2023 and September 2023 to support and prepare colleagues for Ultra Courses.
Ultra Courses provide a completely new way to organise and arrange Blackboard content. To assist with this move, all courses will be created blank with a standardised template as agreed by Academic Board.
Ultra courses will be used from September 2023.
Training and Support
Training and Support
The Learning and Teaching Enhancement Unit will be running a training programme from March 2023 to help prepare colleagues for Blackboard Ultra. These training sessions will take place online using Microsoft Teams.
Centrally organised sessions will be advertised and booked via the Course Booking page. We will be liaising with departmental directors of learning and teaching to provide bespoke introductory training sessions for your academic department.
Help and Further Questions
If you've got any questions, you can contact us on elearning@aber.ac.uk.