Accommodation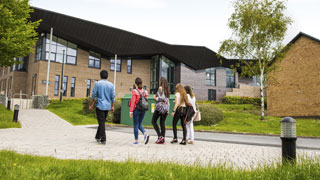 The University has an excellent range of student accommodation, and our residences are designed to create a sense of community and a home away from home.
We guarantee accommodation for all of our scheduled courses. The residence you will stay in for your IEC course depends on the course you are doing and the time of year that you arrive. All IEC students will be allocated residences within a 5 to 12 minute walk of the main university campus, and within 20 minute walk of the town centre.
If you tick the box stating that you need accommodation when you apply for your IEC course, we will automatically reserve a room for you in one of our University residences. You do not need to do anything else to apply.
Accommodation is reserved for you from 10:00 on the Saturday before your course starts. If you wish to arrive earlier, please contact the IEC office in advance to see whether this is possible.
All of our accommodation is self-catering, and you will have a private bedroom in a 6 to 10 person apartment with a fully equipped kitchen.
The University has a range of restaurants offering tasty and reasonably priced food. Social spaces, 24-hour computer rooms and laundry facilities are conveniently located near all University residences.
We will write to you at least a week before your course is due to start to give you detailed information about arriving in Aberystwyth and collecting your room key. Campus reception is open 24 hours a day, so there's no problem picking up your key and accessing your accommodation even if you arrive late at night.
Please see the key facts tab on the course page you for the course you are interested in for full details and costs of accommodation for your chosen course.