Aberystwyth scientist to appear on the Royal Institution Christmas Lectures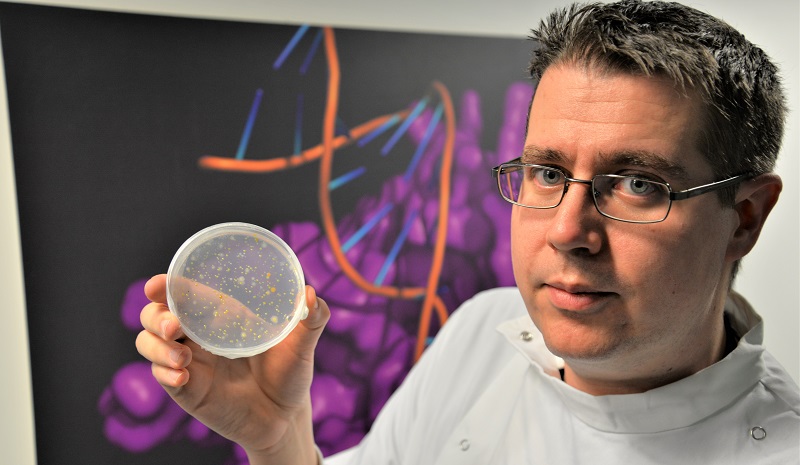 Dr Arwyn Edwards has developed a DNA sequencing kit that fits into a small rucksack and can be used anywhere in the world.
A scientist from Aberystwyth University is set to appear in the 2018 Royal Institution Christmas Lectures which will be broadcast on BBC 4 between Christmas and the New Year.
Dr Arwyn Edwards, senior lecturer in Biology at the Institute of Biological, Environmental and Rural Sciences, will demonstrate a revolutionary new DNA sequencing technique he has developed for working in extreme environments.
The 2018 lectures will take viewers on a journey to answer the most fundamental of questions: "Who am I?" and presented by biological anthropologist, author and broadcaster, Professor Alice Roberts, and genetics expert Professor Aoife McLysaght.
Assisted by PhD student Andre Soares, Dr Edwards will sequence the DNA of a person's microbiome bacteria during the third of this year's lectures, which will be shown on BBC 4 at 8pm on Friday 28 December 2018.
Dr Edwards said: "I'm delighted to have been invited to take part in this year's Christmas Lectures by the Royal Institution. This is one of the staples of Christmas television viewing in our family, and it's a great opportunity to be part of huge tradition in terms of science communication and helping to bring DNA sequencing skills into the living rooms of people across the UK."
Working with Oxford Nanopore, Dr Edwards has developed a portable DNA sequencing laboratory that fits into a small rucksack and can be used anywhere in the world.
Dr Edwards' field work focuses on sequencing the DNA of microbes found on glaciers and ice sheets, as scientists work to understand their response to climate change.
He recently returned from working on the Greenland Ice Sheet and has worked in the High Arctic archipelago of Svalbard.
The revolution in portable DNA sequencing technology has been driven by advances in human genomics according to Dr Edwards.
However, he argues, the most interesting microbes for microbiologists, are often in the most difficult to get at places.
"The ability to sequence DNA quickly, cheaply and anywhere, and almost by anybody, changes the way we do biology. There is great potential for this technology to be used for diagnosing diseases, understanding how pollution affects the environment, and in potentially important new discoveries, for example which microbes in remote and difficult to get to places may be useful in making new antibiotics. All those things require us to have an understanding of the genomic and genetic diversity of microbes", he added.
In May 2018 Dr Edwards and colleagues sequenced DNA live on BBC Radio 4's Today.
Working with samples of soil from the garden of Today presenter Justin Webb, the team completed the analysis and presented the findings live on air in a little over two hours.
The Royal Institution (Ri) was founded in 1799 with the aim of introducing new technologies and teaching science to the general public.
The first Ri Christmas Lecture was delivered in 1825 on 'Natural Philosophy' by John Millington, Professor of Mechanics at the RI from 1817 until 1829.
Computer scientists from Aberystwyth University appeared on the 2014 RI Christmas Lectures.
Ian Izzet and Dave Price's robotic orchestra, built with parts from an old vacuum cleaner, a small glockenspiel and bits of an old pipe organ joined in a rendition of the Dr Who theme music to close the series 'Sparks will fly: how to hack your home'.