Aberystwyth undergraduate student harvests CT scan technology for pioneering wheat study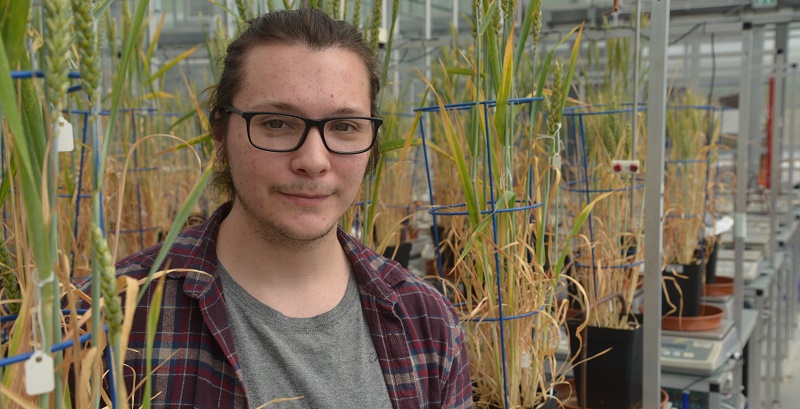 Nathan Hughes at the National Plant Phenomics Centre
CT scanning technology commonly found in hospitals is being adapted to study wheat by researchers at Aberystwyth University.
The pioneering new technique has been developed by undergraduate Computer Science student Nathan Hughes to extract novel information from 3D images of wheat grain heads.
His work will help scientists to develop new types of wheat which can thrive in a changing climate.
Nathan has now won a Genetics Society Summer Studentship to develop the technique after recently completing a year's industrial placement at Aberystwyth University's National Plant Phenomics Centre.
The eight-week bursary is worth up to £2,500 and will see him spend the summer working at Aberystwyth's Institute of Biological, Environmental and Rural Science (IBERS).
There, Nathan will apply the CT scanning technology to study how plants fulfil their growing potential according to their genetic makeup.
Initially, Nathan developed the technique to measure the effects of different watering and heat regimes on wheat yield.
Using the popular Raspberry Pi computers and free open source software to drive an irrigation system and a series of weighing scales, Nathan was able to vary the amount of water given to individual plants and record their weight gain.
The wheat grain heads of the plants were then studied using CT scanning technology to identify differences in grain development.
Traditionally at this stage, individual grains would be studied by hand in a pain-staking and lengthy process.
The new technique developed by Nathan enabled the team to analyse 200 wheat grain heads in an hour – approximately 3000 individual grains of wheat.
The findings were also compared with traditional grain study techniques and found to be 97% accurate.
Speaking of his scholarship, Nathan said: "I'm very pleased to have been awarded a Genetics Society Summer Studentship. Coming from a strong computer science background, I feel that I can bring a unique viewpoint to some of the current questions in plant-science. I have always been interested in combining computer science with other areas of research and this lead me to apply for a placement year working at the National Plant Phenomics Center that bridges plant and computer sciences. I now look forward to developing the work I have been doing over the past year and my understanding of plant genetics."
Professor John Doonan, Director of the National Plant Phenomics Centre said: "We are delighted that Nathan has won such a prestigious bursary. His background in computer vision coupled with his interest in plant biology and innovative approach to the use of technology means he is able to see new opportunities and exploit them in exciting new ways."
Nathan, who is originally from Belfast in Northern Ireland, will present his work to a meeting hosted by the Genetics Society in Edinburgh at the end of August.
In January 2017, Nathan presented his work on the Raspberry Pi controlled plant irrigation and weighing system at FOSDEM 2017, which was held in Brussels.
In September 2017, he will return to study the final year of his Computer Science degree and hopes to go on to study for a PhD.
Further information about the Genetics Society Summer Studentship, which is funded by income from the journal Genes and Development, is available online: www.genetics.org.uk/Funding/GeneticsSocietySummerStudentships.aspx