Bright future: Undergraduate Microbiology student Sinmidele Ayodeji contributes to published paper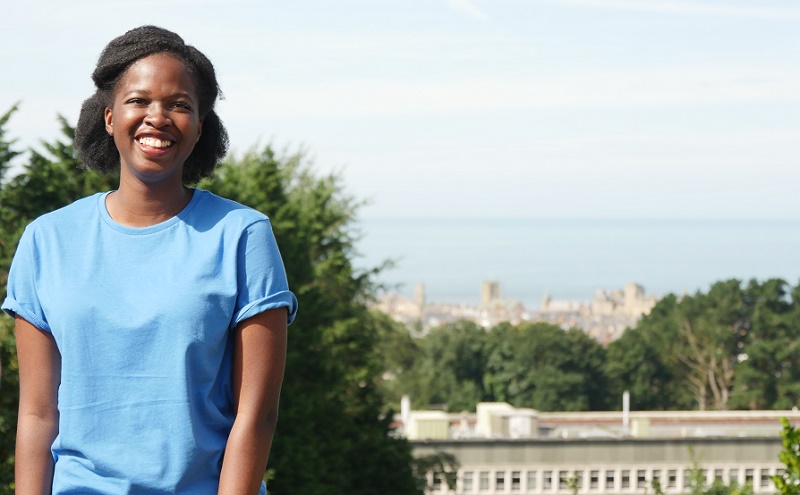 Sinmidele Ayodeji
Having contributed to a published paper as an undergraduate Microbiology student at The Institute of Biological, Environmental and Rural Sciences (IBERS) Aberystwyth University, international student Sinmidele Ayodeji graduates with a 2:1 BSc Microbiology and a bright future ahead of her.

Originally from Nigeria, Sinmidele decided on Aberystwyth University after attending an open day and says, "Aberystwyth is a great place with an abundance of societies and clubs which help international students integrate. The tutors and international office staff are inspiring, welcoming and supportive".

Taking every opportunity to maximise her learning experience during her time at Aberystwyth, Sinmidele successfully applied for a student internship (AberForward) placement as 'Research Assistant in Parasitology' at IBERS. During her placement she contributed to a parasitology research paper, published earlier this year. She says, "During my internship I learned invaluable practical and technical skills both in the field and the laboratory. The experience also inspired my interest in parasitology".

Dr Hazel Davey, Reader and Microbiology scheme coordinator at IBERS says, "Sinmidele is a diligent student who has excelled in her studies, even contributing to a published paper before graduating, an unusual accomplishment for an undergraduate student. I have no doubt that the experience and learning she has acquired during her undergraduate studies has formed the foundation for a highly successful scientific career".

After graduation, Sinmidele hopes to begin a course of postgraduate study or an internship in the area of Biosciences. Her long-term career plans focus on a career in the clinical/medical healthcare sector, with infectious diseases and paediatrics being of primary interest.