IBERS scientist in Kathmandu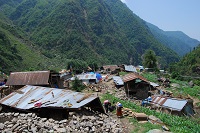 The destroyed village Gyanphedi is very remote one - with no roads. Arche Nova were the first aid group to arrive since the earthquake; driving 4hours and walking 2-3hours to get there.
Dr Tony Callaghan who recently completed his PhD at IBERS is helping to secure a clean water supply in earthquake stricken Kathmandu in Nepal.
Tony has been assisting German based non-profit, non-governmental organisation Arche Nova, a group that specialises in ensuring that clean water is supplied to disaster stricken areas. (https://arche-nova.org/en)
Four Arche Nova water engineers are working with local community groups and individuals to build and repair damaged water purification systems, and to install a filter system to supply the main hospital in Bidur, the capital of the Nuwakot district.
Dr. Gareth Griffith, Tony's PhD supervisor at IBERS said "I am immensely proud of what Tony is doing and pleased that the skills he learned during his PhD at Aber are able to be deployed to help alleviate the problems of the Nepalese people"
Speaking from Nepal Tony said
"Using skills involved in both chemical and biological analysis learned during my time at Aberystwyth I have been assisting Arche Nova with the assessment of the 'potability' or drinking quality of the water before and after purification to determine if it is safe for human consumption."
Tony has spent most of his time in the Kathmandu area and has been also at some of the more remote areas in Nuwakot, north west of Kathmandu.
He added: "In spite of the far from adequate government response, the bravery, strength and unity of the Nepalese people, the tourist volunteers and many of the aid organizations has been incredible.
Nepal has been devastated by these earthquakes and the recovery effort has just begun. However I am already planning my return visit next year to properly enjoy this beautiful place."
Dr Callaghan is originally from Ireland, and studied a BSc in Microbiology at Aberystwyth University's Institute of Biological, Environmental and Rural Sciences (IBERS) from 2006-2009 and completed his PhD in February 2015.