First ever UK degree in Equine and Veterinary Bioscience at Aberystwyth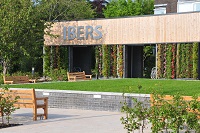 The first ever UK degree in Equine and Veterinary Bioscience has just been validated by Aberystwyth University and will enrol its first intake of students in September 2015.
This new three-year BSc degree, delivered by the University's Institute of Biological, Environmental and Rural Sciences (IBERS), examines the science of the horse in such a way as to provide students with the underpinning scientific theory and veterinary medicine of the animal.
This includes how the horse is bred for superior traits, its nutrition, welfare and care for maximum performance and its management in relation to reproduction, exercise physiology, behaviour and wellbeing.
It does not provide recognised training for those wishing to practise as a veterinary surgeon, but will provide graduates with a thorough grounding in order to prepare them for a wide range of employment opportunities in equine and animal science, welfare, research and development, advisory and technical support, enterprise management and education, animal health, veterinary surveillance and veterinary business in the UK and overseas.
The new degree scheme will build on the existing provision in Equine Science, Equine Studies, Animal Science and Animal Behaviour, drawing upon some common modules from these other schemes, but will also have its own core modules to make it distinct and unique.
The specialist veterinary teaching is spread across all three years with increasing depth of study, and includes modules covering disease diagnosis and control, principles of veterinary science, veterinary pharmacology and toxicology, veterinary infectious diseases (including parasitology), and one health epidemiology.
Tony O'Regan, Degree Scheme Coordinator for the Equine and Veterinary Bioscience degree said
"Aberystwyth University is one of the longest running providers of HE equine programmes in the UK and is delighted to be able to offer this innovative addition to its degree portfolio. Despite not yet being actively marketed we already have a number of high calibre applicants and are confident that we will attract talented students from all over the world, reinforcing Aberystwyth's position as the leading provider of Equine Science programmes in the UK"