BEACON secures £12m investment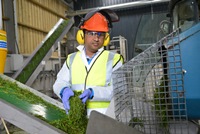 Processing ryegrass for products at BEACON, Aberystwyth University
The award winning BEACON green technology operation has secured an additional £12m funding via Welsh Government to continue developing the green economy in Wales over the next four years.
The new £12 million investment is announced today (Thursday 3 December) by Welsh Government Finance and Government Business Minister, Jane Hutt during an event at the Liberty Stadium, Swansea to mark the achievements of the 2014-2020 European programmes in Wales, which were launched one year ago.
Backed by £8 million of EU funds, the BEACON project will see scientists from Aberystwyth, Bangor and Swansea Universities working with industry to develop renewable materials, fuels and chemicals.
Finance Minister said: "Today's £8 million EU investment in the BEACON project is excellent news which will allow businesses in Wales to benefit from advanced scientific research to develop new products, create jobs and grow Wales' low-carbon economy."
BEACON is a Welsh Government EU funded collaboration led by Aberystwyth University with Bangor and Swansea Universities where scientists specialising in bio-refining.
They are working with small and medium sized enterprises, to develop renewable materials, fuels and chemicals as well as modified and new environmental and economically sustainable processes.
Biorefining is the sustainable processing of biomass into a wide range of bio-based products, chemicals and materials, and bioenergy - biofuels, power and/or heat.
BEACON was established in 2011 and has achieved or exceeded all its targets in assisting companies and creating jobs in the green economy in Wales and making a significant contribution to combating climate change.
Professor Mike Gooding, Director of the Institute of Biological, Environmental and Rural Sciences (IBERS) in Aberystwyth said: "By pooling the knowledge and using the joint expertise of our three universities, we are putting Wales on the map in this growing sector and playing a part in responding to a major global challenge.
"The BEACON operation is using the most advanced academic research to provide practical solutions to global problems.
"The research we do here in bio-refining is developing sophisticated processes to turn locally grown crops into valuable chemicals and commercial products, ranging from fuels to cosmetics, pharmaceuticals, textiles, food and health products.
"Bio-refining means that full use is made of crops, whilst cutting back on emissions of greenhouse gases. IBERS is already carrying out innovative work in producing fuels from energy crops such as miscanthus (Asian elephant grass) and high-sugar grasses."
Professor Iain Donnison from Aberystwyth University's IBERS (Institute of Biological, Environmental and Rural Sciences) is Director of BEACON and said: "BEACON is driven by the challenging targets for the adoption of green technologies and reductions in greenhouse gas emissions that have been set by national governments and the European Union."
"Low carbon technologies including biorefining and industrial biotechnology are seen as important growth sectors and will need sustainable supply chains that will generate economic activity and jobs, and it is these that provide the focus for the work being done in and for Wales at BEACON."