Aber Animal Artist Short-listed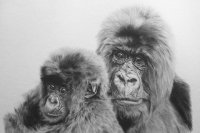 "Primaternal Love" By IBERS graduate Maria Gill
Congratulations to IBERS zoology graduate Maria Gill who has been short-listed for the 2014 David Shepherd Wildlife Artist of the Year Award for her work entitled "Primaternal Love"

Maria, who graduated in 2009, has always combined her love of zoology with a love of art. "I've been fascinated with animals for as long as I can remember" says Maria, a self-taught artist from Yorkshire who has fond memories of her time at Aber. "I jumped at the chance to explore zoology – animals are fantastic - and so is Aber!"

Maria, who trades as Meg Ghyll, loved studying oystercatchers on Aberystwyth beach for her dissertation. But her short-listed entry is on a much larger animal – the Mountain Gorilla. "There's something about gorillas that just takes your breath away" says Maria. "Gorillas are so special, beautiful – and need so much help if they're to survive in their natural habitat".

Maria was on the committee for the Expedition Society during her studies as well as volunteering for the RSPB and for Ceredigion Wildlife Trust as a Wildlife Watch Leader. Aberystwyth gave her the perfect opportunity to combine her passion for the great outdoors with her thirst for zoological knowledge.

Maria joins other zoological stars from Aberystwyth University, including two recent finalists in the Science, Engineering & Technology (Europe) Biology Student of the Year Award, and a winner of the Welsh Ornithological Student Research Award. "Zoology is one of the most popular degrees at Aberystwyth" says , Reader in Animal Behaviour, who explores the mutual influence of art and science in his teaching. "We're all delighted at Maria's success and wish her the very best for the future."

Maria now runs a successful business specialising in pet and wildlife pencil drawings. "I could sit and watch animals for hours" says Maria, "Drawing is the perfect excuse! I hope my art can prove a useful tool in the future by helping to raise vital awareness of those animals who need it most."

Maria's short-listed entry was snapped up when it went on show, with half the money raised going towards wildlife conservation.

Aberystwyth's zoology scheme is open for investigation as part of the University Open Day on 2nd July – a chance to visit stars from its zoological museum (gorillas not included).