Aberystwyth graduate scoops Llyndy Isaf Scholarship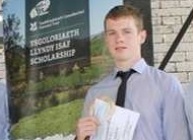 Tudur Parry was presented as winner of the Llyndy Isaf Farming Scholarship at the Royal Welsh Agricultural Show
Tudur Parry, who has just graduated in Agriculture and Countryside Management from Aberystwyth University, is the winner of the prestigious Llyndy Isaf Farming Scholarship for 2014/5.
The Scholarship is organised by the National Trust and the Federation of Welsh Young Farmers Clubs.
Tudur is from Garndolbenmaen in Gwynedd, and will follow in the footsteps Caryl Hughes, the first winner of the Scholarship and who is also a graduate of Aberystwyth University where she studied Agriculture and Animal Science.
He is also the winner of the IBERS Agriculture Student of the Year award for 2014.
Tudur will begin his term as manager of Llyndy Isaf, a 614 acre hill farm, in September.
Responding to the announcement, he said, "It will be a great opportunity. I'm really looking forward to using the skills and knowledge I gained at university on the farm."
Tudur grew up on a cattle farm, and he said he was "hoping to help develop that aspect of the business".
"I want to improve my sheep husbandry also.
"I'm sure it will be a challenge and I am a little nervous because I have big shoes to fill; Caryl did an excellent job and I am delighted she will be there to offer some guidance during my first month."
Tudur completed a Higher National Diploma (HND) in Agriculture and Countryside Management at the Institute of Biological, Environmental and Rural Sciences (IBERS) at Aberystwyth University between 2010 and 2013.
He spent his Year of Work Experience on the National Trust's farm, Hafod y Llan, in Beddgelert.
After completing his HND, Tudur moved to the final year BSc (Hons) degree in the same subject, and graduatied in mid-July 2014.
Iwan Owen, Lecturer in Agriculture at Aberystwyth University, said, "During his time at University Tudur was an active and unpretentious student who made the most of every opportunity.
"Pursuing the vocational HND course or the Foundation Degree has been extremely effective, allowing him to complete a recognized qualification in the meantime, spend a year in a great job on the well know farm Hafod y Llan and then go on to complete a BSc degree in just one year additional.
"Tudor deserves all the credit for his achievements and his combination of practical experience from his time working at Llwyndy Isaf and Hafod y Llan, and his good academic qualification, provide a great platform for a career in the industry."
The Llyndy Year Scholarship is for a period of a year. The aim of the scholarship is to encourage the successful candidate to develop key skills and expand their knowledge of the farming industry.
During his year Tudur will be responsible for managing all aspects of running the farm including stock control, administration and practical work.