Former US Chief Public Health Veterinarian honoured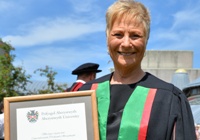 Professor Bonnie Buntain
Professor Bonnie Buntain, former Chief Public Health Veterinarian at the Food Safety and Inspection Service for the US Department of Agriculture (USDA), has been honoured as Fellow of Aberystwyth University.
Professor Buntain is currently Assistant Dean Professor of Public Health at the University of Calgary in Canada.
At the USDA, Professor Buntain advised the Office of Field Operations of all veterinary issues regarding food safety, humane slaughter and handling and optimizing the use, retention and recruitment of public health veterinarians.
Professor Buntain received her Bachelor of Science and Masters of Science in Animal Science from the University of Hawaii and obtained her Doctor of Veterinary Medicine degree in 1977 from Colorado State University.
Professor Buntain was presented by Professor Chris Thomas, Pro Vice-Chancellor Research and Academic Quality on Thursday 17 July.
Presentation by Professor Chris Thomas:
"President, Vice-Chancellor
Professor Bonnie Buntain is a doctor of veterinary medicine, ex Chief Public Health vet for the US government for seven years and more recently one of the founding deans of North America's newest vet school in Calgary Canada.
Over the last couple of years it has been a pleasure working with Bonnie as we develop our concept of a Vet School for Wales here at Aberystwyth that the university council will consider later this year.
However, I have to report there is a down side to keeping company with vets and I now know things I wish I didn't. Bonnie's otherwise hilarious story of castrating a stallion on a remote ranch in Hawaii has, quite frankly, left me scarred for life.
Putting this aside, we honour today Professor Buntain for her outstanding contribution to veterinary practice and food safety working with industry and government, for her international advocacy of One Health approaches to complex health issues, and for helping our university to develop these concepts for Wales.
What is One Health? Well, let me give you a clue by listing Bonnie's current positions at Calgary University:
She is a Professor in the Faculty of Veterinary Medicine AND Faculty of Medicine
She fills these roles in two Departments in the University:
Medicine's Department of Community Health Sciences;
and the Vet School's Department of Ecosystem and Public Health.
As I sure you can infer, One Health is an interdisciplinary approach based on the realisation that health of people, animals and ecosystems are often closely coupled.
Bonnie is one of the visionaries who have not only recognised this early, but more importantly, is doing something about it, by pioneering interdisciplinary university education and research programmes.
We are delighted to have her help on this mission in IBERS as we address major global challenges such as food security and emerging threats to animal and human health.
Bonnie was raised in Hawaii and she began her career with a BSc and then MSc in Animal Sciences from the University of Hawaii in Honolulu.
She then moved to Colorado State University to do her Doctorate in Veterinary Medicine followed by an internship in large animal medicine at the University of Glasgow.
After Scotland she returned to Hawaii and established an Equine Veterinary Clinic on Oahu, which she ran for 10 years.
I guess the endless sunshine and idyllic beaches wore thin, because Bonnie then made a career change and embarked on work as a government veterinarian starting with the Food and Drug Administration in Maryland, but soon found herself in Washington DC.
There is a nice Canadian phrase that the University of Calgary uses as its motto – Eyes High. It means, keep the big picture in the frame. Be ambitious. Keep your eyes on the horizon. On entering government service Bonnie for sure had her eyes high, and she drove forward ambitious change. This has had a profound and beneficial effect on food safety policy from farm to table and has been influential globally.
Within 5 years from being in private practice as a horse vet, she was promoted to the senior executive service in the US government, with her office reporting directly to President Clinton and then to President Bush.
'Eyes high' is also pretty good advice for those of you graduating today, to which I would add, following Professor Buntain's example
1) do some good in the world, and
2) don't be put off by people who say things can't be done until you've absolutely tested that proposition for yourself.
Mr Llywydd mae'n fraint ac yn bleser gennyf gyflwyno i chi Professor Bonnie Buntain, yn Gymrawd Prifysgol Aberystwyth."