Organic Champions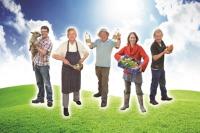 A co-operative dairy farmer, a lamb and beef producer, a poultry expert, an ethical chef and a market gardener have joined forces to spread the word about the benefits of organic food and farming as part of a new campaign.

At a time of heightened awareness amongst consumers – research* published last week suggests that 8 out of 10 consumers in the UK want to know where their meat and dairy products come from - Organic Centre Wales (OCW) has selected five "Champions" and invited them to share their stories to inspire Welsh shoppers to find out more about organic food.

"There are some excellent examples of producers, retailers, chefs and restaurant owners all over Wales who have adopted the principles of organic food and farming," said Neil Pearson from OCW. "This initiative is a way of recognising this and at the same time explaining the important, real differences to consumers about organic food production and benefits that go with them."

The five Champions each represent different parts of the food industry in Wales – red meat, dairy, poultry farming, horticulture and the catering trade – and all have different stories and reasons why they support the principles of organic farming. Over the next six months, the campaign will reveal a little more about each of the individuals through a combination of stories from their farms, video diaries, blogs and even their favourite organic recipes.

Sophie Durnan, who runs the Riverside Garden Market in Cowbridge, will champion the benefits of organic horticulture. She took up the reigns at the 5-acre organically farmed market garden in 2011 and supplies organic vegetables to local delis and restaurants, as well as around 50 regular box scheme customers.

For Sophie, it is the sustainable nature of organic farming that is important.

She said: "As an 18 year old I attended a world summit in Johanesburg and got to observe the world leaders debating environmental policy and that spurred on my journey to sustainability. I come from a family of artists and spent my childhood wanting to be a farmer, now I'm living that dream but I can certainly say it's much harder work that I thought.

"Our regular customers have the reassurance that goes with the organic principles of farming. To the restaurants we supply, it is about knowing they can give their customers a firm promise that their food comes from a local and sustainable source."

OCW, which has supported organic producers in Wales for over 10 years, has dedicated pages on its Facebook page [www.facebook.com/OrganicCentreWales] to the Champions, who will also be making appearances at events like the Royal Welsh Show in July and the Abergavenny Food Festival in September.
Neil Pearson said: "We know that people's motivations for choosing organic can be quite different. For some people it is about taste and quality, for others it is about traceability and having that confidence about where their food has come from and how it has been produced. For the Champions themselves, one of the key principles that they all share is the need to reduce the impact that food production can have on the environment."

Despite the latest annual market report from the Soil Association showing an overall 1.5% dip in like-for-like organic sales across the UK, there are a number of positive trends in the Welsh organic sector. The Welsh Organic Producer Survey revealed strong demand for organic meat, with sales of beef up by 32% and [market ready] lamb up by 69%, as well as a 10.6% growth in sales of organic milk. While these figures, which were boosted by a number of Welsh farms completing their organic certification in 2011-12 are encouraging, there is a concern that the combination of pressure on organic feed prices and changes to support payments for organic farmers will force many of Wales's organic producers to revert back to non-organic production over the next few years.

The Welsh Organic Producer Survey also highlighted growth in direct sales during 2012, with almost a third (28%) of producers involved in selling direct to the public experiencing an increase in sales, while 55% reported no significant change. Meat (48%) and vegetables (29%) continue to dominate the direct sales market, with more than half (54%) of producers involved in direct selling relying on individual customers for over 80% of their turnover.
The latest survey, this time measuring attitudes of shoppers in Wales towards organic food, found that almost three quarters (74%) of people agree that organic farming means better standards of animal welfare, while around two thirds (64%) think that organic produce is healthier for you. This study, based on a representative sample of 700 principal grocery shoppers in Wales, was carried out by Beaufort Research in May 2013.