£35m innovation campus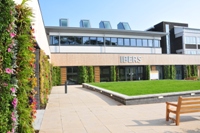 The Gogerddan Campus
Aberystwyth University has today announced plans for an investment of £35m in the development of a new UK Innovation and Research Campus at Gogerddan.
The new campus will be known as the Aberystwyth Innovation and Diffusion Campus – AIDC.
The development is made possible by a £14.5m investment from the Biotechnology and Biological Sciences Research Council (BBSRC) announced today (Monday 22 July) by David Willetts MP, UK Minister for Universities and Science, at the launch of the UK Government's Agricultural Technology Strategy.
Contributions from other stakeholders, including Aberystwyth University, are expected to bring the total investment in this project to over £35m.
Minister for Universities and Science, David Willetts, said: "Britain has the potential to be world-leading in agricultural science and technology, yet our productivity growth has dropped significantly in the past 30 years. These leading edge campuses will help reverse that trend by getting our researchers and businesses working together to commercialise their ideas. This is vital for our economy and future food security which is why we are launching the Agri-Technology Strategy."
BBSRC will invest up to £14.5m to help establish the world leading Aberystwyth Innovation and Diffusion Campus for food and renewable energy and will be a key partner in delivering this ground-breaking project.
Of the total amount invested, up to £2.5m is earmarked to develop the Pwllpeiran Upland Research Centre near Aberystwyth (subject to the final lease being agreed with Welsh Government), a unique facility which will concentrate on enhancing and improving upland agriculture through research based innovations, training and development.
The Aberystwyth Innovation and Diffusion Campus at Gogerddan will bring great benefit to the economy and society, from the local to the global, by harnessing Aberystwyth's unique natural resources of people and place, and its interdisciplinary capabilities.
New infrastructure and facilities will be developed to attract companies and researchers interested in creating commercially viable new products, based on modern approaches to plant breeding.
IBERS at Gogerddan is the home of the BBSRC and Welsh Government supported £6.8m National Plant Phenomics Centre, which features the most advanced research greenhouse in the UK, which opened in May 2012.
Welcoming the announcement, Professor April McMahon, Vice-Chancellor of Aberystwyth University said: "This is wonderful news for Aberystwyth and for the University. We look forward to working in partnership with the BBSRC in delivering this superb project, building on our earlier and very positive experiences with the new IBERS buildings and the National Plant Phenomics Centre.
"The new Campus will enhance our joint working with business, including accommodating start-up companies, and allow us to offer new interdisciplinary training. All these benefits are closely linked to the aims of our Strategic Plan, and will further develop the appeal of this exceptional part of Wales."
Professor Wayne Powell, Director of IBERS at Aberystwyth University said:
"This investment is a vote of confidence in the work we do here at IBERS, and will enable us to build on the heritage of this site and to further enhance our position as global leaders in translational agricultural research.
"Agriculture is the cornerstone of some of the major challenges facing society in the 21st century, and our vision is to convert these grand challenges of food, water and energy security into sustainable and prosperous opportunities for society, recognising that innovation in agriculture will play a critical role in fostering a knowledge based bio-economy".
The Aberystwyth Innovation and Diffusion Campus will include a commercially focused training centre, and will enable numerous departments within the University to work with IBERS to develop the bio-economy.
It will also involve an upland research platform for the UK, and a Public-Private-Producers-Partnership for Food and Energy Security built around an innovative, business facing plant breeding facility incorporating national capability for independent evaluation of new products.
Work on the new Aberystwyth Innovation and Diffusion Campus is expected to commence in 2014 and be completed by March 2015.
Aberystwyth University is the largest single beneficiary of today's announcement by UK Minister for Universities and Science David Willetts.
Of the £30m being invested by the UK Government in a range of innovative and exciting projects across the UK, the Aberystwyth Innovation and Diffusion Campus receives up to £14.5m, Rothamsted Centre for Research and Enterprise receives up to £8.2m, The Easter Bush Campus (Edinburgh) receives up to £5M, and the Norwich Research Park received up to £2.5m.

AU11813