Cream of the crop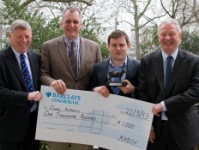 Left to Right: Nick Everington from Royal Association of British Dairy Farmers, Dr Mike Rose IBERS, competition winner Owen Ashton and Dairy Crest's Mike Sheldon.
Owen Ashton, a final year student studying BSc (Hons) Agriculture at IBERS, Aberystwyth University is the Dairy Student of the Year.
Owen was presented with a £1,000 cash prize in London on 22 March 2013 and the university received £500 towards a dairying educational project.
The preliminary round of the competition, run by the Royal Association of British Dairy Farmers and with the support of Dairy Crest, took place last month when a panel of judges questioned 11 shortlisted applicants on how a dairy farm could make room financially for the next generation.
Six then went through to the next round, where they were asked to make a presentation on the disadvantages and advantages of British dairy farmers compared to their competitors.
The four finalists then had to make a formal presentation in London on how they would further their career in dairy and what obstacles they may face.
Owen Ashton, who hails from Navan, County Meath in Ireland, was the only entrant from a non-farming background. He credits his uncle Roger Lewis for providing him with practical experience over a lifetime of holidays on his mixed unit based near Wrexham.
Scheduled to graduate this year, Owen has already secured a position as herd manager in Herefordshire. Within 10 years he plans to have secured his own joint venture agreement and stock with cows purchased from his savings. "I'm thrilled and honoured to receive this award," he said.
"I believe one of the biggest challenges for me and my peers is finding opportunities to enter the sector. I would like practical incentives to be made available for us first time farmers, as well as more information on joint ventures, matching days and meetings where we can get together to share ideas."
He added "The grounding, support and help I've had from my lecturers in IBERS has helped me achieve this award particularly since I don't having farming parents. They have helped me to realise my ambitions and I'm planning to put the money towards buying my first heifers."
Dr Mike Rose, Lecturer at IBERS congratulated Owen and said: "Education and training in the agricultural sciences is becoming increasingly important, as the demands of modern agriculture become more technical. Owen has done magnificently at all stages of the competition, in particular by demonstrating his substantial knowledge of grass based dairy systems. Given Owen's enthusiasm for grass based dairy systems, IBERS intends to spend the £500 it received as part of this award on equipment for students to learn how to measure grass production on farm."
"Owen has a bright future ahead of him in the dairy industry. He has a clear idea of how he is going to get into the industry and make it a success. He has concrete plans to build a cow-share partnership scheme starting this year. This is where the cows on a farm are jointly owned by the land owner and the manager of the animals. This allows the manager of the animals to build up their stake in the business over time, while the owner of the land has someone enthusiastic to take on the day to day running of the enterprise. This can be an excellent way for new-entrants to make it into the dairy industry."
"Dairy production plays an important part of the Agriculture degrees at Aberystwyth University. The University has recently confirmed this commitment by investing £1million in a new, state of the art, dairy parlour and housing at its Trawsgoed Dairy Farm. The dairy which received support from BBSRC will form the basis of teaching and research for staff and students."