IBERS creates new research collaborations with Brazil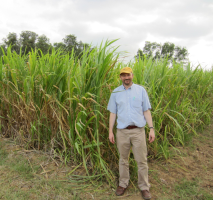 Prof. Iain Donnison during his visit to Brasil in November 2012.
In 2012 IBERS scientists have developed exciting new research and teaching links with Brazil which combines expertise and facilities from both countries with the goal of developing sustainable food and energy production methods and training the next generation of researchers.

March 2012 - and Dr Kerrie Farrar of IBERS were among a group of 30 Brazilian and UK researchers studying aspects of crop and livestock agriculture who were invited to attend a British Council Agriculture Workshop.

April 2012 - Cristina Pungartnik from the Universidade Estadual de Santa Cruz, Bahia, Brazil visited Dr Gareth Griffiths and gave a departmental talk entitled 'Witches Broom Disease of Cacao: Mechanisms of Resistance'.

August 2012 - Prof. Jamie Newbold attended the 49th Annual Meeting of the Brazilian Society of Animal Science taking part in an Embrapa sponsored symposium on rumen microbiology, and giving a keynote presentation on challenges for ruminant production in the future.

September 2012 - Dr Joe Gallagher and Dr Sharon Huws of IBERS were invited to attend a UK Brazil Metagenomics Workshop for Sustainable Agriculture and Biotechnology co-funded by BBSRC and Embrapa as part of an invited group on metagenomics of biomass degradation for biofuel.

November 2012 - Dr Kerrie Farrar and Prof. Iain Donnison attended the BIOEN Workshop at the State Research Funding Agency for Sao Paulo (FAPESP), Sao Paulo. The BIOEN programme spans crop genomes to ethanol and other products and has many parallels with the bioenergy and biorefining work being carried out at IBERS. During their time in Brasil, they met with researchers at the University of Sao Paulo and the Embrapa Research Institute at Seropedica who are working on bacterial endophytes in sugarcane.

Aberystwyth University hosted a visit by Pedro B. Arcuri & Alexandre do Amaral, LabEx Europe, EMBRAPA and Prof. John Lucas Rothamsted Research, who were interested in talking to a range of IBERS scientists about the diverse agriculture-related research programmes we have running here in Aberystwyth, in particular in bioenergy, biotechnology and sustainable agriculture.

As 2012 draws to a close, IBERS looks forward to the further development of mutually beneficial research collaborations developing during 2013 and beyond and would particularly like to welcome  Brazilian students to apply for IBERS postgraduate courses, such as the new IBERS MSc in Green Biotechnology & Innovation Management.