Topping out at Gogerddan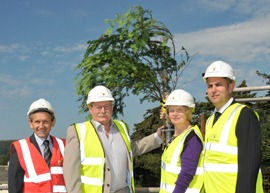 Professor Wayne Powell, Director of IBERS, and Vice-Chancellor Professor April McMahon at the topping out ceremony.
Professor April McMahon, Vice-Chancellor of Aberystwyth University, today (Thursday 1st September) performed a topping out ceremony to mark the completion of the latest phase of construction on the new £8.6m IBERS research and teaching facility at Plas Gogerddan.
Professor McMahon was joined by senior members of staff at IBERS, members of the IBERS External Advisory board, the construction company Willmott Dixon, project managers Davies Langdon and architects Pascal & Watson, for the occasion which was marked by attaching a cutting from a Yew tree on to the building.
Speaking at the ceremony, Professor McMahon said: "This is a highly significant project for IBERS and the University.  IBERS is a vitally important engine of research activity for the University and it is fitting that this new development at Gogerddan should house such state of the art facilities. It is good for genetics, agriculture and ecology and will provide a fantastic training ground for students to work across the boundaries of those very different disciplines, further developing the reputation of Aberystwyth as an interdisciplinary university."
"We're delighted to acknowledge the support of our major funders, the Biotechnology and Biological Sciences Research Council and the Welsh Government. And I'm also very pleased to announce that both this development and the second new IBERS building on our Penglais campus have been awarded the BREEAM Excellent rating, which is by no means easy to achieve, but which underlines the University's commitment to the environment as a crucial part of our new building projects."
Professor Wayne Powell, Director of IBERS said: "The new phenomics centre will mean that comprehensive information can be recorded from large numbers of plants in months rather than years." 
"It will be a focus for the development of high quality collaborations with international scientists in the fields of genetics and functional genomics, ecology, genecology, crop improvement, climate change mitigation and adaptation, and global agriculture in an environmental context."
"It is one of the few national scale facilities in Wales, providing opportunities for academic business engagement, to drive translational research in relation to food security and climate change."
The development, which will feature a new phenomics facility housed within the first greenhouse of its kind in the UK, will further enhance IBERS' reputation for cutting edge research in the search for solutions to the major global challenges of food, water and energy security, and adapting to changing climate.
The uniqueness of this new facility stems from the innovative combination of robotics and computer-aided image analysis that allows plant growth to be measured in an automatic and objective way.
Described as a "Smarthouse" by IBERS scientists, it will allow them to examine large populations of plants for features of interest and, in combination with NexGen Genomics, determine the genetic basis of those features.  
From a practical agricultural perspective, this should allow researchers to quickly identify plants with superior characteristics and thereby speed up the breeding of crops.  The ability to control the growth conditions means that the facility will be used also to study how plants are adapted to their environment and so should be of interest to ecologists.
Other facilities within the new development will include laboratories, space for visiting academics to work and a communal and social area where the public can see IBERS' work.