Welcome South Africa
If you have any questions about applying to, studying at, or living in Aberystwyth, please contact the regional officer for your country:
Contact: Jack Coates
Email: jac136@aber.ac.uk
Phone: +44 (0) 1970 621892
Entry Requirements
Entry Requirements
Undergraduate

South Africa National Senior Certificate with grades 55555 overall. Grade 5 in English from South Africa National Senior Certificate.


Applicants with lower scores may be considered for courses with integrated foundation years.

Postgraduate

Entry onto our postgraduate Master's courses requires an undergraduate/bachelor degree of equivalent standard to the British undergraduate/bachelor degree, with a minimum grade equivalent to British second-class honours.

Qualification
UK 2:2 Class
UK 2:1 Class
UK 1

st

Class
South African degree classification (per cent)
60-69%
70-74%
75-100%

For specific requirements, please refer to the Postgraduate Admissions Office website.

English Requirement

IELTS score of at least 6.0 - 7.5

South Africa National Senior Certificate Grade 5 in English.

If you require help or assistance with your English then our International English Centre will be pleased to offer assistance and guidance. The Centre offers an intensive full-time course available before you commence your degree and provides ongoing support throughout the duration of your studies.
Please note each course will require specific entry grades from the qualifications highlighted above. Some courses may also require an additional portfolio or interview.
Student Profiles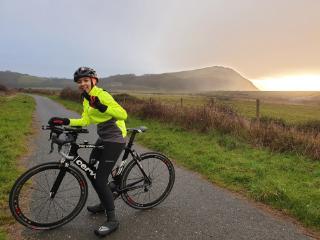 Gabriella Sinclair
What do you love about Aberystwyth and Aberystwyth University?
I enjoy the small, coastal town setting and the cleanliness of the streets, and being able to safely walk around. The people are friendly, and the town is surrounded by beautiful forests, sheep farms, and a picturesque coastline, which are all perfect for exploring. My favourite part about being in Aberystwyth are the many walking and cycling trails, where you can meet friendly people walking their dogs and families spending time together. Aberystwyth University is surrounded by greenery, making for a peaceful environment with various areas to sit or study with a sea view or under trees.
I really love that the lecturers are professionals in their fields and are passionate about what they do. This makes lectures more engaging and the balance between practical and theory work is well-balanced.
What have you enjoyed most about your course?
The highlights of my course are the practicals and field trips. I am a visual learner, so doing practicals helps to reinforce what I learn in my lectures.
The practicals are a great opportunity to get to know and work with other students, which teaches you about teamwork.
How did you find adjusting to life in Aberystwyth?
I adjusted fairly quickly, maybe because the town is small, so it is less daunting and easy to navigate. It also helps to stay in university accommodation as this makes it easier to make friends.
The support that was provided by the university for international students was excellent, which also helped my adjustment process.
What advice would you give someone considering studying at Aberystwyth University?
If you enjoy the rural/country lifestyle away from the hustle and bustle of the city, then Aberystwyth is perfect. The town is very safe, and the university is renowned for having 90% student satisfaction from 2018 to 2020.
There are various shops, restaurants, and pubs to visit as well as some interesting historical sites, such as the castle or the old university building.
What is your favourite thing about the campus?
I enjoy the spacious setting of the campus buildings. One of my favourite places on campus is the Sports Centre, which is free if you live in university accommodation. The accommodation is very clean with plenty of green areas which are well-kempt, making it a wonderful place to spot birds and squirrels and sometimes rabbits.
The students you live with become your new family, which helps make adjusting easier and you will soon be referring to your flat as 'Home'. My favourite things about my accommodation are the forest and the sheep fields, which are perfect for a quick study break walk.
Alumni Profiles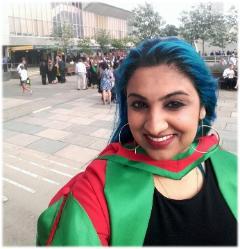 Dr Jarishma K. Gokul
(PhD in Microbiology, specializing in Polar Microbiology and Glaciology)
"My time at Aberystwyth University has become the bar to which many of my life and academic experiences are compared. Whilst there, I was a vital member of a highly collaborative, dynamic, supportive group of colleagues and mentors in IBERS, that continually embraced everything new, different and diverse while accomplishing the extraordinary (and not just because we were microbial ecologists!). I experienced my first ever snow in Austria thanks to my then supervisor, Dr Arwyn Edwards, and can firmly state that I will never keep my nose out of the ice ever again. In fact, I continue to work together with him and his excellent team to this day, and anticipate a great continued friendship across the seas.
My PhD from Aber gave me the ideal toolkit to explore microbial life on both the Arctic and Antarctic ice sheets and mountain tops, from the deep Antarctic ocean, Japanese seas, and sub-Antarctic Islands, to the water and food we consume and in the land we depend upon to provide the food we need to survive. My time at Aber left an indelible mark on my being and has aided in my becoming a successful scientist and leader abroad, and an overall virtuous human being. For the first time in my life I was able to indulge my musical side thanks to the abundance of art representation (and a rather supportive musical Welshman). I joined two amazing choirs, The University Singers and Abercoustic, to engage in classical and popular music, and was even awarded University colours for my contributions. It allowed far more engagement the welcoming town folk which was incredible.
There are far too many things I love immensely about Aber - living so close to the sea and the hilltops, prom walks at sunset, "kicking the bar", lots and lots of little lambs on the green hillsides when visiting Devils Bridge, long walks to Borth with the accompanying Gorse thorn scratches, choir rehearsals in the Old College, trips to Aberaeron for honey ice cream, walking about Nant yr Arian spotting red kites, late summer barbeques and bonfires on the beach with friends. Living in Aber has had an unbelievable impact on my life, and I still envisage my growing from strength to strength while learning at every step of the way. I encourage others to embrace the wonderfully different circumstances you find yourself in as a student in Aber. Prepare, be safe and get that degree… But… Be your real self, travel, learn incredible things, explore, meet remarkable people, learn a bit of Welsh (or more!), grow into the best version of yourself and then grow some more.
Caru Aber"