ABERcareers and Events
ABERcareers is our on-line portal that gives you very easy access to our services and a whole lot more, such as:
Employer events with graduate recruiters, placement supervisors and Aber alumni – bookable through the portal
Career and skills workshops delivered by our Careers Consultants – also bookable through the portal
Vacancy database with over 7000 work opportunities of all kinds from across the globe, including integrated year in industry and placement vacancies
1:1 careers guidance appointments with our Careers Consultants – also bookable through the portal
Enquiries function for all your questions
Resources to help with your career planning
Simply log in using your Aberystwyth University username and password. If you have graduated from Aberystwyth University you can continue to use this portal. Visit our Graduates page for details on how to register for access.
Have a look at our ABERcareers video which gives you a quick introduction on how to use the ABERcareers platform.
Many of our workshops and events are now pre-recorded as webinars, or will be delivered as live webinars with recordings of some sessions being made available to you afterwards. See what we have to offer you below. You can also check out the highlights on our monthly newsletter which is emailed to all students.
Career and skills webinars - live
Career and Skills Workshops and Webinars 2023/24

The Careers Service is running a series of live workshops and webinars to boost your employability skills during these challenging times. All workshops and webinars will be approximately 30 minutes with a 10-minute Q&A, unless otherwise stated. For more information, and to book your place, please visit ABERcareers - use the Search drop down menu to find and select Events.
Autumn 2024
03-Oct

10.10am

How to find a part-time job

Union Room

05-Oct

11.10am

Career confident – meet your Careers Service for brunch

Picture House

10-Oct

11.10am

Presenting with Confidence

Teams

16-Oct

11.10am

Utilising ABERCareers to find a job, events, placements and advice

Union Room

Get Work Ready:

23 Oct - 10 Nov

23-Oct

11.10am

Attending a careers fair

Teams

24-Oct

11.10am

Postgraduate study

Union Room

24-Oct

10:30am

How to network and connect with employers – Karl Swanepoel – Revolancer

Teams

31-Oct

10.10am

How to write great CVs and cover letters

Union Room

02-Nov

11:10am

Adjustments and disclosure

TBC

06-Nov

12.10pm

How to succeed at interviews

Union Room

07-Nov

10.10am

Graduate Schemes - Busting Myths !

Teams

Digital Festival:

6 Nov - 10 Nov

07-Nov

11.10am

How to use LinkedIn.

Teams

09-Nov

10.10am

Improving your Digital Footprint and your Online Shadow

Teams

Finding your Career Direction:

13 Nov - 1 Dec

15-Nov

11.10am

Using Prospects (bring your own device)

Teams

16-Nov

11.10am

Applying for teacher training

Union Room

23-Nov

14:10

Developing a Growth mind set.

Union Room

30-Nov

14:10

Know your learning styles

Union Room

Career Wellbeing:

4 Dec - 8 Dec

05-Dec

11:10

Mince pie brunch careers chat and quiz

Picture House
Please note, workshop dates and times are subject to change, for up to date information and to book your place please visit ABERcareers
Career and skills webinars - recordings
A range of pre-recorded webinars are available to you at any time that suits you best. See below for the full list. Shorter recordings of the highlights of some of our live webinars will also be added to this listing, so keep returning to see what's new!
Spring Webinars 2023
How you can work in the emerging green sector - With the UK government committed to a Net Zero Strategy by 2050 join this workshop to identify placements, graduate jobs and potential employers.
How to find internships and work experience - This webinar recording will give you an insight into techniques and resources for finding remote internships and work experience.
How to prepare for interviews - This webinar recording will help you prepare for upcoming interviews, with an insight into what to expect in your interview, types of questions that can come up and top tips on answering them effectively.
Presentation skills - Graduate employers regularly ask for good communication and presentation skills. This webinar will give you an insight into the steps you can take towards developing and delivering an effective presentation.
Autumn Webinars 2022
All about the Year in Employment Scheme - Find out more about the benefits of doing a placement and how it has helped students who have participated in this scheme.
LinkedIn 2 – using LinkedIn to network and research jobs - This interactive session will demonstrate how to use LinkedIn to develop your professional network, connect with employers online and find job opportunities.
Working abroad; everything you need to know about making the most of opportunities for students and graduates overseas - This session will look at opportunities for working in other countries and the best resources to help you find placements and graduate roles overseas.
ABER+ Interviews and disclosure - Interviews can be challenging, especially if you are a disabled student. This session will help you to prepare for interviews, including requesting adjustments and how to answer interview questions.
ABER+ Applying for graduate schemes/placements when you have a disability - Graduate schemes can be quite daunting to apply to and even more so if you have a disability. This webinar will help you approach and navigate the various stages of graduate scheme applications.
Aber+ Disclosure and Adjustments - This session will discuss the rights of disabled students in the recruitment process, and cover the Equality Act 2010, how to disclose and how to ask employers for adjustments.
CVs, Create a dynamic recruitment tool - This webinar will help you to write a positive marketing document aimed at employers outlining your transferable skills, apply for vacancies and get shortlisted for interviews.
All about Graduate Schemes - This webinar will look at Graduate Schemes; what they offer; how to apply to join them.
Preparing for a Careers Fair - This webinar will give you an insight into careers fairs along with top tips on preparing effectively.
LinkedIn - Building your profile - This session will take you through the process of building your LinkedIn profile and cover all the basics you need to get started.
Applying for part time jobs in Aberystwyth - Gain tips and advice on finding and applying for part-time jobs locally.
Getting into teaching/Applying for a PGCE - This session will take you through your teacher training options, the application process and how to approach writing your personal statement.
Employer events & recordings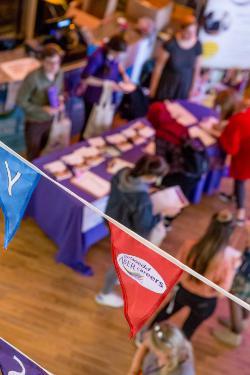 Attending an employer event is one of the best ways to find out about the world of work, direct from industry professionals. It's also an invaluable opportunity to build your confidence when meeting employers, and develop important skills such as commercial awareness and networking.
The employers and professionals who join us at all the events and sessions we run are all keen to meet you, tell you about the opportunities their organisation is offering, give you lots of tips as you take your next steps and share their career journey with you.
Many are Aber alumni too!
We offer a range of event formats - something for everyone, for example:
Sector-specific panels Different employers from the same sector discussing opportunities and trends and providing job search advice, with Q&A at the end
Ask Me Anything about... Insights from individuals and professionals about their career journey, their current role or even their recent placement year
Skills workshops Delivered by graduate recruiters, giving you the most up-to-date insight into current recruitment and selection practices
Careers Fairs With leading national and international employers from a range of sectors, course providers and careers consultants, a Careers Fair is an opportunity to:
Build your professional network and put your questions to recruiters
Improve your CV writing skills and get top tips for interviews
Explore career pathways
Discover what it really takes to make an application stand out
Make direct applications to open roles
Access exclusive content by joining live workshops and presentations
Regularly visit the 'Events' section of ABERcareers for details of all types of upcoming employer events.
Entrepreneurship
Ever thought about being an entrepreneur? Don't think self-employment is your kind of thing?
You'd be surprised how many sectors now need people to think more creatively about how they are working. Being freelance is a recognised way ahead for many occupations these days, not just for the creative and preforming arts but also in such areas as computing, engineering, environment and sustainability, animal and equine sciences, education, modern languges, research and so much more.
Whether you want to take a more entreprenuerial approach to your future career, or find out about the support available to students and graduates thinking about setting up their own business or social enterprise, or freelancing, have a look at how our AberPreneurs team can help.
eMentoring
eMentoring is a great way of finding and accessing the support of previous graduates who've been along exactly the same path as you. Get direct 1:1 advice and information from those who've done it already and have built successful careers in roles and sectors that interest you.
Explore how to build your network and register with our eMentoring scheme today!