University building named in honour of scientist Gwendolen Rees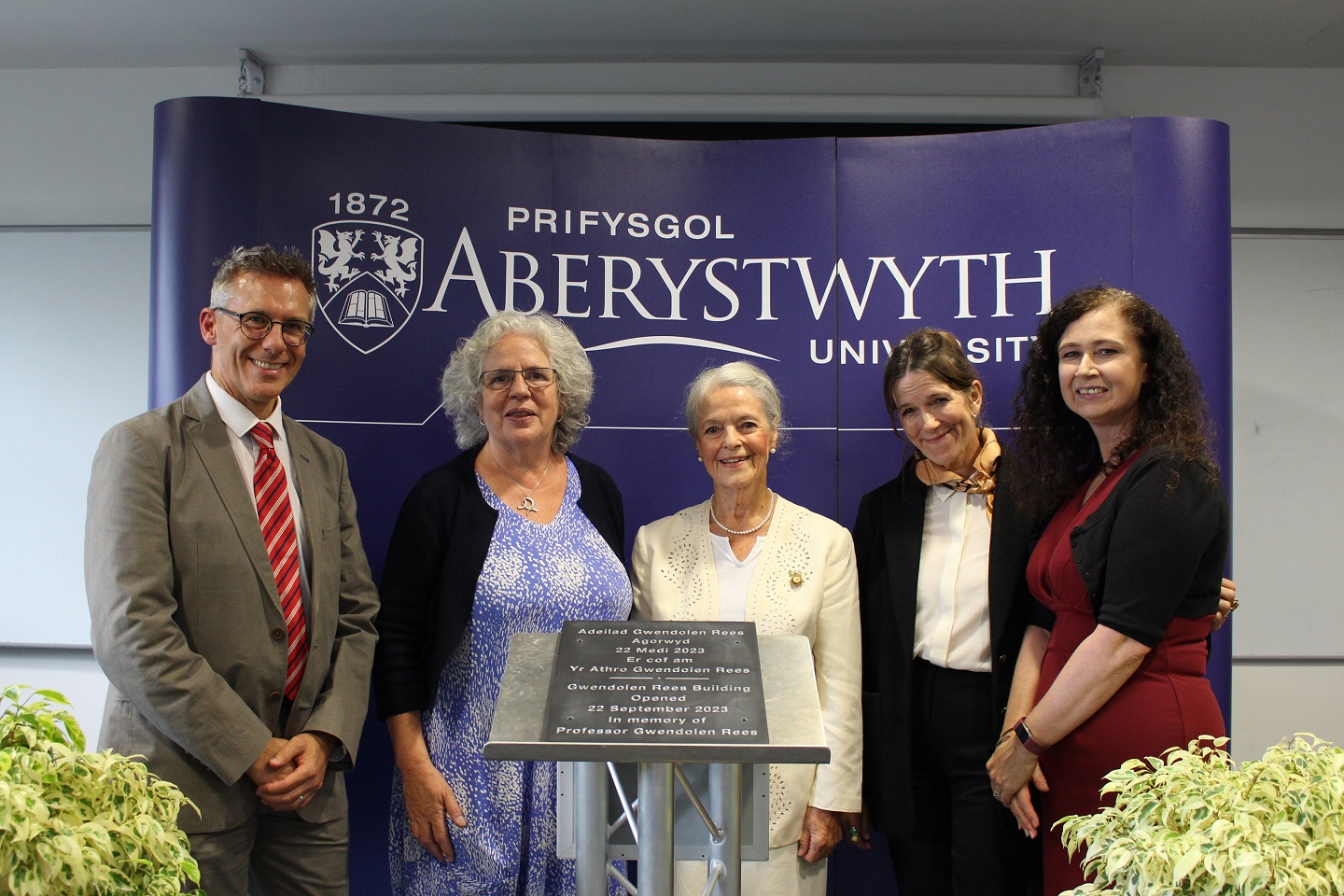 Unveiling of the official plaque to Prof Rees with Professor Iain Barber, Professor Elizabeth Treasure, Katherine Childs, Jane Hankin and Professor Joanne Hamilton.
Aberystwyth University has officially renamed a flagship building in honour of Professor Gwendolen Rees, the first Welsh woman to be elected a Fellow of the Royal Society.
Professor F. Gwendolen Rees (1906–1994) was a leading zoologist and a pioneer of parasitology at Aberystwyth. She also featured in British Vogue magazine in 1975 in a celebration of influential women in society.
At an official ceremony involving relatives of the late Professor Rees, the new name was unveiled on a plaque on the former Institute of Biological, Environmental and Rural Sciences (IBERS) building on Penglais campus, now home to the Department of Life Sciences (DLS) which was established in 2022.
The new Department's research and teaching remit covers a broad range of academic areas, including the subjects studied in the former Department of Zoology where Professor Rees worked from 1930 until her retirement in 1973.
During her career and after retirement, Professor Rees published a total of 68 academic papers – the final one published in her 82nd year when she was Professor Emerita of Zoology.
Two of Professor Rees' nieces joined senior staff from Aberystwyth University to unveil the plaque at the ceremony.
Professor Elizabeth Treasure, Vice-Chancellor of Aberystwyth University, said:
"It has been a pleasure to unveil the plaque today with members of the late Professor Rees' family. I am delighted that the University is honouring her in this way. She was a remarkable woman who made an international contribution to her field of research and whose lasting legacy means Aberystwyth remains a world-leading centre for the study of parasitology today."
Professor Rees's name was chosen following a vote by staff in the Department of Life Sciences, and approved by the University's Executive and Council.
Professor of Parasitology in the Department of Life Sciences at Aberystwyth, Jo Hamilton, paid tribute to her predecessor:
"It's a privilege to have had a chance to talk about Gwen's pioneering research and teaching at Aberystwyth. She may no longer be with us, but we still draw on her rich legacy and use some of her meticulously produced parasite slides when teaching students today. This subject area remains one of our core research strengths, with many of our academics holding leadership roles in international parasitology societies.
"The renaming of this flagship building not only honours one of Wales' foremost academics, it also marks a significant milestone in the first operational year of the Department of Life Sciences. Professor Rees's legacy will continue to inspire students through our teaching and delivering innovative research that makes a valuable contribution to Wales and the wider world".
Some of the microscope slides produced by Professor Rees also feature in the University's 150th anniversary book Ceiniogau'r Werin / The Pennies of the People (Prifysgol Aberystwyth University, 2022).
The work of the Institute of Biological, Environmental and Rural Sciences (IBERS) is now located mainly on the University's Gogerddan campus.