Sir Brian May shares farm TB eradication experience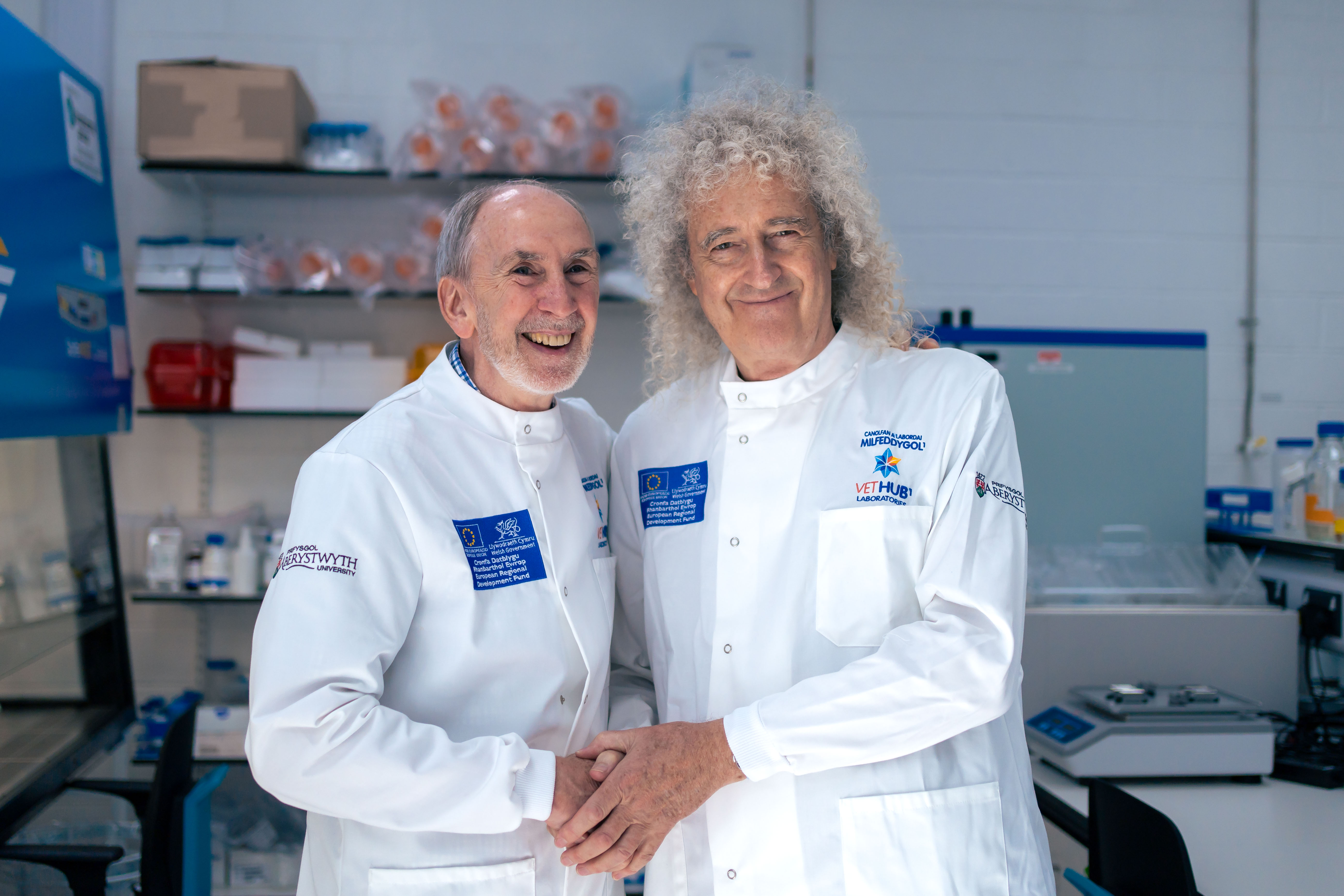 Professor Glyn Hewinson (left) and Sir Brian May (right)
World-famous musician Sir Brian May has shared the experience of efforts to eradicate tuberculosis on a farm he sponsors in a lecture at Aberystwyth University.
Backed by Sir Brian May, south Devon milk producer Gatcombe Farm has been testing strategies to combat the disease.
Working with the guitarist and anti-cull campaigner, the farm has trialled a series of alternative tests for detecting TB, as well as improving biosecurity measures and slurry management.
Speaking after addressing an audience of vets, farmers and academics at Aberystwyth University, Sir Brian May said:
"I began researching bovine TB ten years ago, when I founded the Save-Me Trust; together we embarked on a mission to find out the truth about cows and badgers and the scourge of bovine TB, in which the badgers stood accused of being a 'wildlife reservoir' of disease. After an introduction from the NFU, we set to work in collaboration, to battle the disease first-hand, at the dairy farm at Gatcombe in South Devon.
"I am hoping my work will pave the way for a better understanding between the various stakeholders in the fight against Bovine TB, and will eventually lead to a better life for farmers, cows, and badgers in the UK. It is clear that Aberystwyth University is doing very important research in this field, and their work deserves support from all involved so that the scientific research on this disease can continue apace."
The lecture was hosted by the Sêr Cymru Centre of Excellence for Bovine Tuberculosis at Aberystwyth University.
Professor Glyn Hewinson, Head of the Sêr Cymru Centre of Excellence for Bovine Tuberculosis at Aberystwyth University, said:
"Events such as these are important in promoting a dialogue about this devastating disease. Here at the Centre of Excellence in Aberystwyth, we engage with all stakeholders in our joint endeavour to find new and better ways of combatting bovine tuberculosis. We aim to provide a strong scientific evidence base to support the eradication of the disease and to grow and develop academic research expertise in Wales."