Refugee stories from Wales on show in Westminster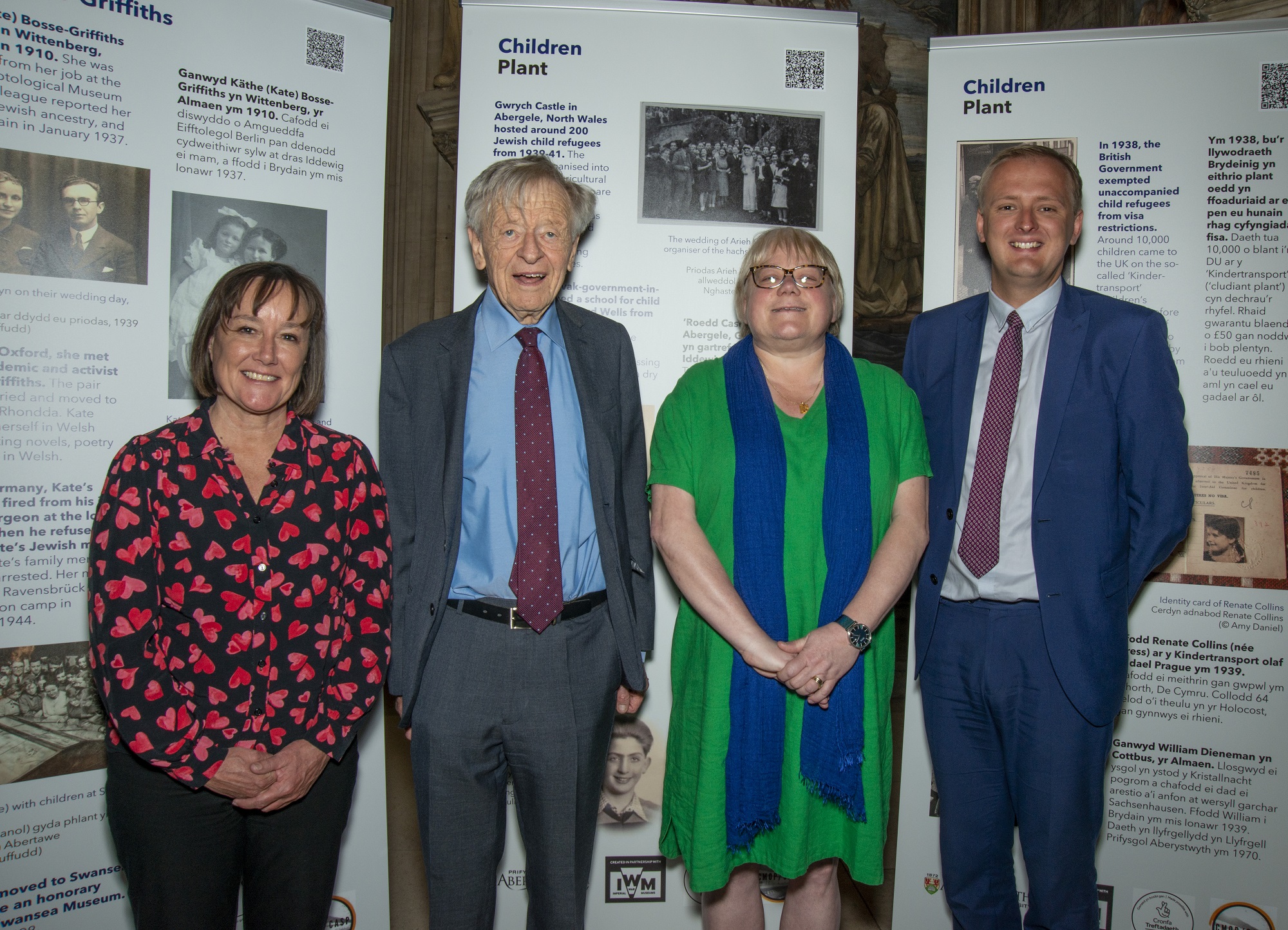 Left to right: Jo Stevens MP, Shadow Welsh Secretary; Lord Alf Dubs; Dr Andrea Hammel; Ben Lake MP for Ceredigion
An exhibition telling the real-life stories of people who have found refuge in Wales over the years has gone on display at the Palace of Westminster in London.
'Refugees from National Socialism in Wales: learning from the past for the future' has been co-curated by Dr Andrea Hammel and Dr Morris Brodie from Aberystwyth University's Centre for the Movement of People, in collaboration with refugees and those who are assisting refugees with resettlement in Wales.
The exhibition traces the history of those who have sought sanctuary in Wales, ranging from those who fled from National Socialism in Central Europe in the 1930s and 1940s, to modern day refugees.
The exhibition in the Upper Waiting Hall of the Palace of Westminster gives information on artworks, objects, photographs, and literature created by refugees and those working alongside them, from across the decades.
Those attending the official opening of the exhibition on Wednesday 24 May 2023 included Lord Alf Dubs, who fled Czechoslovakia aged six as part of the Kindertransport scheme and attended the Czechoslovak State Boarding School in Llanwrtyd Wells between 1943 and 1945.
Dr Hammel, Reader in German and Director of the Centre for the Movement of People at Aberystwyth University, said:
"I am delighted that our exhibition is being displayed at the Palace of Westminster, and am grateful to Ben Lake, MP for Ceredigion, for sponsoring it.
"The exhibition gives a voice to refugees who have found refuge in Wales over the decades. It allows us to discover their stories through their own words and pictures, and highlights the positive contribution these men, women and children have made to life and culture in Wales.
"Our project has sought to demonstrate that learning from the experiences of refugees in the past, can help us to respond with respect, empathy and compassion to those seeking refuge from war and persecution today."
The exhibition was curated as part of the Second World War and Holocaust Partnership Programme, led by Imperial War Museums and funded by the National Lottery Heritage Fund.
It has previously been displayed at Aberystwyth Arts Centre and the Senedd Oriel & Pierhead Futures Gallery in Cardiff. It will be exhibited at Pontio Arts & Innovation Centre in Bangor from 8 June 2023.