Top UK award for academic's animal health project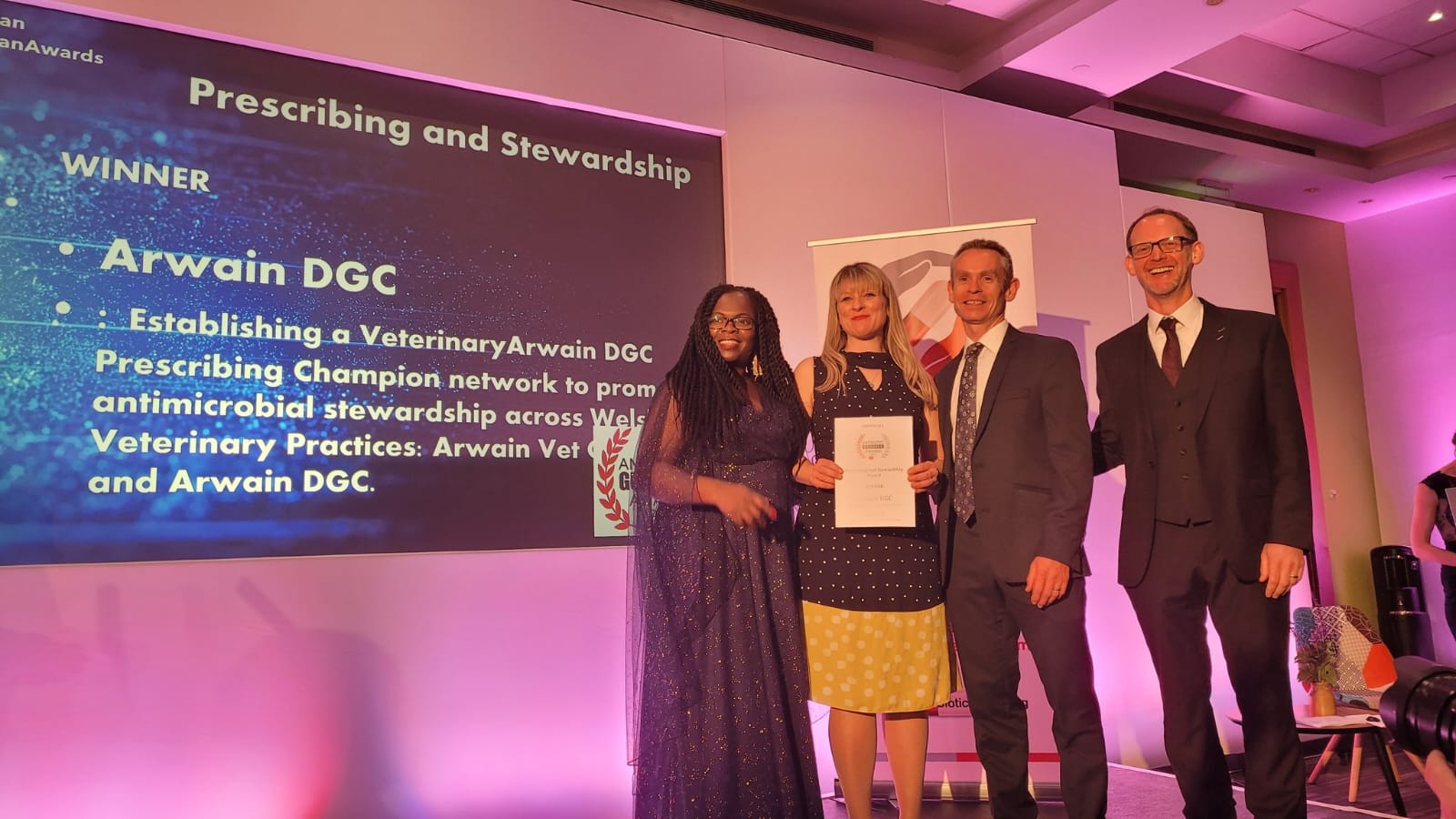 (left to right) Diane Ashiru-Oredope (Lead for AG, Chair of ESPAUR, Lead Pharmacist, UKHSA), Dr Gwen Rees BVSc (Hons) PhD MRCVS Lecturer in Veterinary Science at Aberystwyth University, Arwain DGC Programme Manager Dewi Hughes, and Wales Chief Veterinary Officer Dr Richard Irvine.
The pioneering work of an Aberystwyth University academic's programme to help combat antibiotic resistance has won the top prize at a London awards ceremony.

Led by Dr Gwen Rees from Aberystwyth University, the Veterinary Prescribing Champions Network, as part of Arwain DGC, works to help vets prescribe antibiotics responsibly. The wider Arwain DGC project, led by Menter a Busnes and with project partners WLBP, Iechyd Da and the University of Bristol helps vets, farmers and horse owners  address the spread of antimicrobial resistance in animals and the environment by reducing the need to use antibiotics.

The programme works in partnership with key Welsh agricultural stakeholders, veterinary delivery partners, and academic institutions to highlight the issue. Through training, applying new technology, data gathering, and improving understanding, the programme encourages and demonstrates ways to reduce the need to use antibiotics and the risk of antimicrobial resistance developing.

The Antibiotic Guardian 2022 Awards champions organisations and individuals who have 'demonstrated achievements in tackling antimicrobial resistance at a local, regional, or national level.'

Antimicrobial resistance is classed as a global 'One Health" challenge, and there are calls for urgent action.

Launched in 2014, the One Health Antibiotic Guardian Campaign started as an online action-based pledge system to increase engagement in tackling the problem through improving knowledge and changing behaviour across human and animal health.

The awards ceremony was held in London, with an international audience drawn from across the world of health and academia.

Dr Rees' Arwain DGC project work at Aberystwyth Univrsity was named overall winner of the 'Prescribing & Stewardship' category and the wider Arwain DGC work was highly commended in the 'Community Communication' category.

Dr Gwen Rees, from the School of Veterinary Science at Aberystwyth University said:

"This is fabulous news for all involved in the project. It feels like an even greater success given we were up against such stiff competition from global research collaborations across human and animal health. I'm so proud to have been able to work with a great team of collaborators. Above all, I'm grateful for the hard work and commitment of our network of excellent Welsh Veterinary Prescribing Champions for making the project such a success."

Dewi Hughes, Menter a Busnes Animal Health Services Manager and Arwain DGC programme manager, said, "We are absolutely delighted and incredibly proud that Arwain DGC's work has been recognised among such strong entries from both the animal and human sectors – which demonstrates how important reducing AMR is to One Health.

"These awards are testament to the commitment and skill of Arwain DGC's programme partners in the agricultural industry and academia and demonstrates the work they have undertaken to challenge AMR in livestock and the environment in Wales.

"Several of the programme's work streams have already yielded important new knowledge of AMR development and spread and revealed - often simple - practices to prevent disease and the need to use antibiotics."

Arwain DGC is closely aligned to the Welsh Government's five-year AMR in Animals and the Environment Implementation Plan (2019 – 2024).The Arwain DGC programme has received funding through the Welsh Government Rural Communities - Rural Development Programme 2014-2020, which is funded by the European Agricultural Fund for Rural Development and the Welsh Government.