Leading thinkers to speak at Aberystwyth University research festival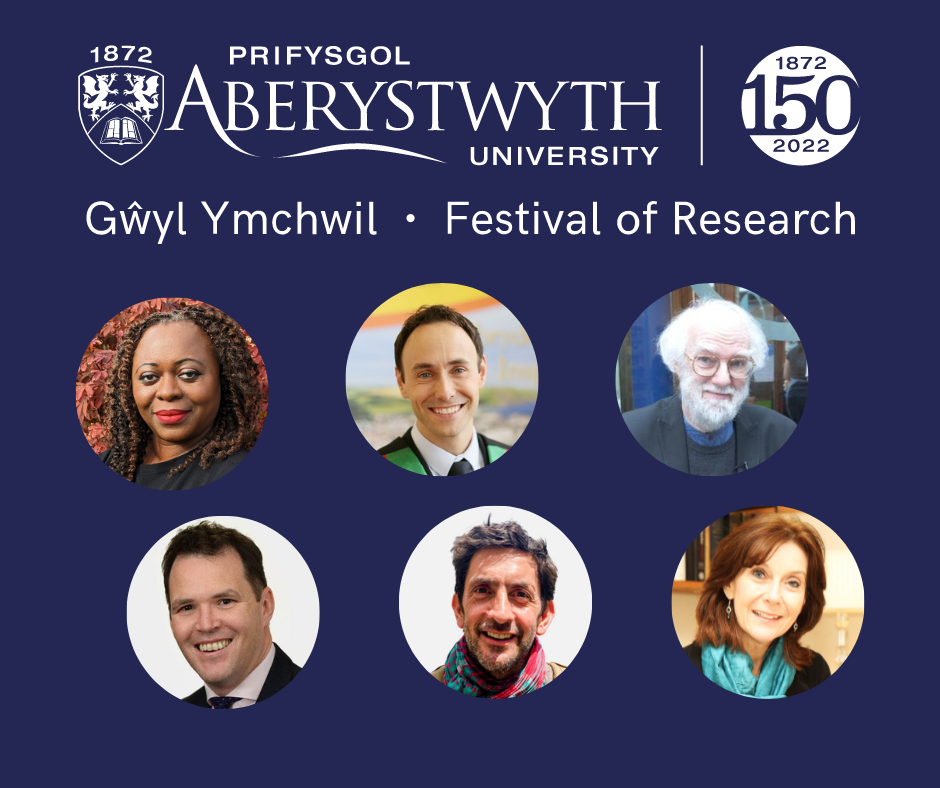 Some of the speakers at the 2022 Aberystwyth Festival of Research - Professor Olivette Otele, Lee Waters MS, Radio 1's Aled Haydn Jones, BBC Climate Editor Justin Rowlatt, Dr Rowan Williams and Professor Mererid Hopwood
Former Archbishop of Canterbury Dr Rowan Williams and Head of BBC Radio 1 Aled Haydn Jones will be among the contributors at Aberystwyth University's Festival of Research later this month.
The annual festival highlights the world-leading research undertaken at Aberystwyth, with this year's event forming part of the institution's 150th anniversary celebrations.
World-renowned expert on the history of slavery, Professor Olivette Otele, will deliver a public lecture while BBC Climate Editor Justin Rowlatt will speak about the climate change challenges the world faces post COP27 in Egypt.
Panel discussions will explore different aspects of Wales' future, including Dr Rowan Williams and Professor Mererid Hopwood discussing the role of dialogue in creating better futures.
Lee Waters MS, Wales' Deputy Minister for Climate Change, will formally launch Aberystwyth University's Centre for Transport and Mobility, promoting research on sustainable transport and travel patterns.
Further information and free tickets for the Festival's public events are available by going to: aber.ac.uk/researchfest  
Professor Rhys Jones, Chair of the Aberystwyth University Festival of Research 2022, commented:
"One of the key aims of the Festival is to engage with local communities as well as sharing ideas and insights. We want to promote constructive dialogue between our University, our politicians and the public. I'm sure the discussions at the Festival will help shine a light on the urgent issues ahead of us as a country and a planet, and stimulate rigorous debate across all disciplines."
Professor Elizabeth Treasure, Vice-Chancellor of Aberystwyth University, added:
"It is great to see a wide range of speakers in a variety of fields taking part on so many engaging topics. The Festival of Research is a fantastic opportunity to bring some of the important work done here at the University to local and national audiences.
"As we celebrate our 150th anniversary as Wales' first university, it is an apt time to look forward to the challenges which face us and discuss the worlds in which we want to live."