An open invitation to visit Pantycelyn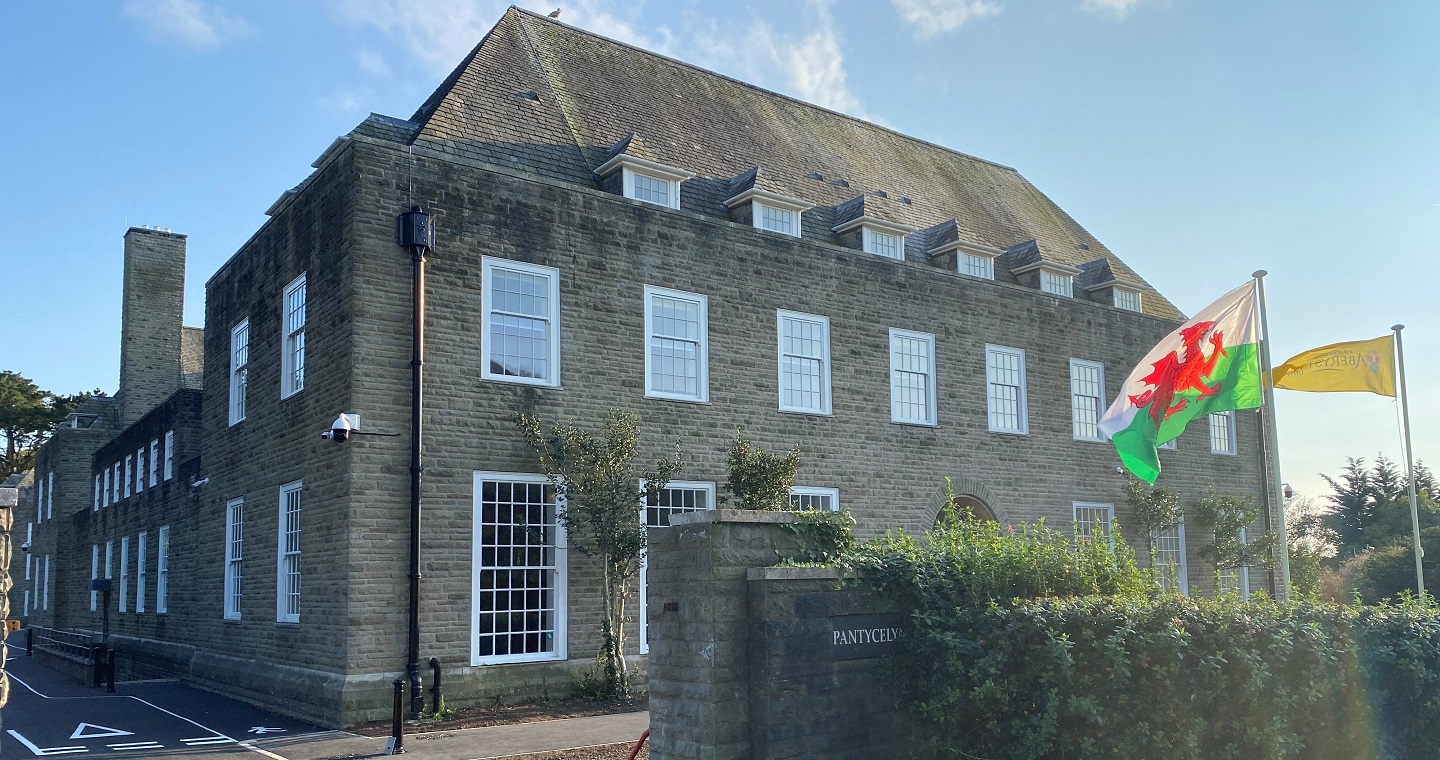 Pantycelyn
Wales' most famous Welsh language halls of residence will open its doors to the public on the first Sunday of this year's National Eisteddfod.
Pantycelyn was established as a Welsh language halls of residence in 1974, and in September 2020 it welcomed a new generation of students after an investment of £16.5m.
The iconic halls will be open to the public between 2 and 4pm on Sunday 31 July and there will be an opportunity to visit some of the rooms of the historic building, such as the Lolfa Fach , the Lolfa Fawr and the Freutur, where light refreshments will be served.
There will also be an opportunity to see the new study facilities and en-suite rooms, and to see an exhibition of posters and placards that reflect the social life in Pantycelyn throughout the decades, and the contribution of Aberystwyth's Welsh language students' union - UMCA.
Dr Rhodri Llwyd Morgan, the University's Director of Welsh Language and External Relations, said: "We are very much looking forward to welcoming people back to Pantycelyn, former residents, staff members, prospective students and the public. The building holds a wealth of memories for many and is the heart of Aberystwyth's vibrant community of Welsh students, where everyone can live their lives in a natural Welsh speaking environment."
Since its renovation, Pantycelyn offers first-class accommodation for up to 200 students, with each of the bedrooms newly built.
In addition, there is a brand new student's union office where UMCA provides advice and support to students and co-ordinates a full programme of activities.
Pantycelyn was reopened by the Education Minister in September 2020. Along with significant investment from the University, the project received £5m from the Welsh Government's Education and Schools for the 21st Century programme.
Rhodri Morgan added: "The COVID restrictions means this is the first chance for us to open the doors of Pantycelyn so that everyone can see the wonderful resources that are here, and the amazing transformation following the construction work. Although the building looks more or less the same from the outside, most of what is inside is completely new and reflects the requirements of students in the 21st century, yet retains the best of the close-knit community that was such an important feature for generations of students who have lived there."
There has already been a great response from former students who wish to visit Pantycelyn on Sunday, and anyone who wishes to wants to book a place at the event, or the University's annual reunion on the Eisteddfod grounds, can do so online here.
Pantycelyn's open afternoon is part of a full programme of activities that has been organised for the week of the Eisteddfod, which also marks the start of the University's 150th anniversary celebrations.