Aberystwyth University presents Gwerfyl Pierce Jones with Honorary Fellowship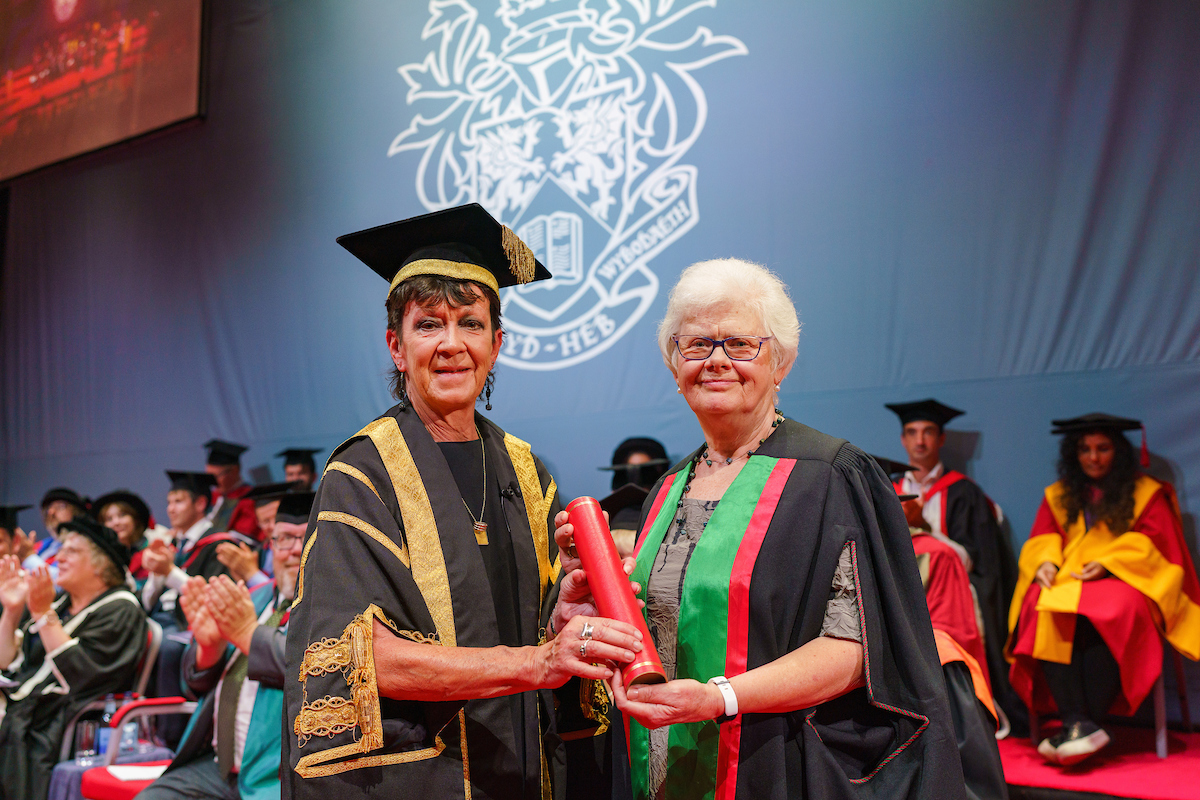 Meri Huws, Aberystwyth University Council Member, with Gwerfyl Pierce Jones
Former Director and Chief Executive of the Welsh Books Council, Gwerfyl Pierce Jones, has been conferred as Honorary Fellow by Aberystwyth University as part of this year's graduation ceremonies.
Raised on Anglesey, Gwerfyl Pierce Jones began her career as a lecturer in the Welsh Department at St David's University College, Lampeter.
She subsequently held posts in arts administration with the Arts Council of Wales, the Academi, and served as Director and Chief Executive of the Books Council of Wales from 1987 until her retirement in 2009.
She has served on numerous boards and committees, including the National Library of Wales, the Welsh Language Board and the British Council (Wales Committee). She was Chair of Theatr Genedlaethol Cymru between 2013 and 2018.
She served as Pro-Chancellor of Aberystwyth University from 2012–2019, and led the Pantycelyn Project Board which developed the plans for the refurbishment of Neuadd Pantycelyn. She also chaired the Old College Project Board in its initial years.
She is involved with a number of charities and trusts, including as a Trustee of HAHAV (Hospice At Home Aberystwyth Volunteers).
She is Chair of the James Pantyfedwen Foundation.
Gwerfyl Pierce Jones was presented by Dr Rhodri Llwyd Morgan, Director of Welsh Language, Culture and External Engagement, on Thursday 14 July 2022.
The full conferral presentation is available below:
Presentation of Gwerfyl Pierce Jones by Dr Rhodri Llwyd Morgan:
Dirprwy Gadeirydd, Is-Ganghellor, graddedigion, gyfeillion. Pleser o'r mwyaf yw cyflwyno Gwerfyl Pierce Jones yn gymrawd Prifysgol Aberystwyth.
Deputy Chair, Vice-Chancellor, graduates and supporters. It is an honour to present Gwerfyl Pierce Jones as a Fellow of Aberystwyth University.
Un o Gaergybi, Ynys Môn, yw Gwerfyl Pierce Jones.
Ac er iddi raddio yn y 'lle arall', mae Gwerfyl wedi gwneud cyfraniad sylweddol iawn iawn fel aelod o Gyngor a phrif bwyllgorau Prifysgol Aberystwyth. Fe wasanaethodd fel Dirprwy Gadeirydd y Cyngor ac fel Dirprwy Ganghellor yn ogystal. Am sawl blwyddyn bu ar y llwyfan hwn yn cyfarch graddedigion a Chymrodyr a braf yw gweld Gwerfyl yn derbyn yr anhrydedd y tro hwn.
As a former Member and Deputy Chair of Aberystwyth University Council and former Pro Chancellor, Gwerfyl has graced this stage many times, welcoming graduates and Fellows alike. Today, she is the one receiving much deserved recognition for her accomplishments.
The foregoing will be in Welsh but in summary: Gwerfyl is an individual who has made an enormous contribution to the University, to the Welsh language and to Welsh culture in many fields and has enriched the public life of Wales.
Dechreuodd ei gyrfa yn darlithio yn adran y Gymraeg, Prifysgol Llambed, cyn mynd i swyddi ym myd y celfyddydau gan weithio i Gyngor Celfyddydau Cymru, yr Academi, ac yna'n Gyfarwyddwr ac yn Brif Weithredwr Cyngor Llyfrau Cymru o 1987 tan ei hymddeoliad yn y flwyddyn 2009. Dan ei harweiniad hi bu'n gyfnod o ddatblygiadau mawr yn hanes y Cyngor Llyfrau a'r diwydiant cyhoeddi llyfrau a chylchgronau yng Nghymru yn y Gymraeg a'r Saesneg.
Ar adeg ymddeoliad Gwerfyl lluniodd y bardd a'r ysgolhaig, y diweddar Gwyn Thomas, gerdd ac ynddi mae'n ei galw'n 'santes llên, Un a roes fri ar lyfrau ac a gyflawnodd wyrthiau'.
Yn ogystal ag arwain un o sefydliadau diwylliannol mawr y wlad – ac mewn cyfnod lle peth prin oedd menyw yn y swydd ar y brig – mae Gwerfyl wedi gwneud cyfraniad o bwys ar fyrddau a phwyllgorau, megis Llyfrgell Genedlaethol Cymru, Bwrdd yr Iaith Gymraeg, a Phwyllgor Cymru y Cyngor Prydeinig. Rhoddodd wasanaeth hefyd fel Cadeirydd Theatr Genedlaethol Cymru 2013-18. Mae'n weithgar yn ei bro a'i chapel, ac elusennau megis Hosbis yn y Cartref ac Ymddiriedolaeth James Pantyfedwen.
Mae ymroddiad Gwerfyl i fuddiannau'r sefydliad hwn, Prifysgol Aberystwyth, wedi bod yn enfawr. Bu'n aelod o Gyngor y Brifysgol yn y 1990au a dychwelodd yn aelod o'r Cyngor ddeng mlynedd yn ôl a rhoi dau dymor pellach o wasanaeth, a'i chyfraniad ym mhob ffordd yn ennyn parch ac edmygedd.
Chwaraeodd ran werthfawr dros ben yn cadeirio Bwrdd Prosiect yr Hen Goleg ym mlynyddoedd cynnar y cynllun uchelgeisiol hwn. Annhepgor hefyd oedd cefnogaeth Gwerfyl i achos adnewyddu Neuadd Pantycelyn a'i chadw'n Neuadd Gymraeg ac yn ganolbwynt i fywyd myfyrwyr Cymraeg nawr ac am genedlaethau i ddod. Gwerfyl, roedd eich pendantrwydd, eich dycnwch a'ch doethineb yn amhrisiadwy.
Mewn cyfweliad gyda BBC Cymru holwyd Gwerfyl beth oedd ei hoff air. Beth oedd ateb y santes llên, tybed? Yn syml iawn, 'Gwnaf'. Ac os yw Gwerfyl yn dweud 'Gwnaf' mae'n saff i chi, bydd yn gwneud. Diolch am yr holl 'wneud' hwnnw ac am eich cyfraniad eithriadol i'r Coleg hwn ac i ddiwylliant ein cenedl.
Dirprwy Gadeirydd, mae'n bleser gen i gyflwyno Gwerfyl Pierce Jones i chi yn Gymrawd.
Deputy Chair, it is my absolute pleasure to present Gwerfyl Pierce Jones to you as a Fellow.
Aberystwyth University Honours 2022
During Graduation 2022, the University will present ten Honorary Fellowships to individuals who have or have had a connection with Aberystwyth or Wales, and who have made an outstanding contribution to their chosen field.
This year's Fellows include leading figures from the arts, broadcasting, law, agriculture, and the science and technology sectors.
The 2022 Honorary Fellows are (in order of presentation):
Professor Dame Elan Closs Stephens DBE, Electoral Commissioner for Wales and Non-Executive Director of the BBC Board and its member for Wales
Myrddin ap Dafydd, author, publisher and Archdruid of Wales
The Hon Justice Datuk Vazeer Alam Mydin Meera, Court of Appeal Judge, Malaysia
Harry Venning, award winning cartoonist, illustrator and comedy writer
Dr Zoe Laughlin, co-founder and director of the Institute of Making
Rhuanedd Richards, BBC Wales' National Director
Jonathan Whelan, IT consultant, author and Fellow of the British Computer Society
Tom Jones OBE, agriculturalist and founding Chair of the Millennium Stadium Charitable Trust
His Honour Judge Nicholas Cooke QC, former Senior Circuit Judge at the Central Criminal Court, "the Old Bailey"
Gwerfyl Pierce Jones, former Director and Chief Executive of the Welsh Books Council