Dŵr Cymru Welsh Water to use artificial intelligence to monitor drinking water quality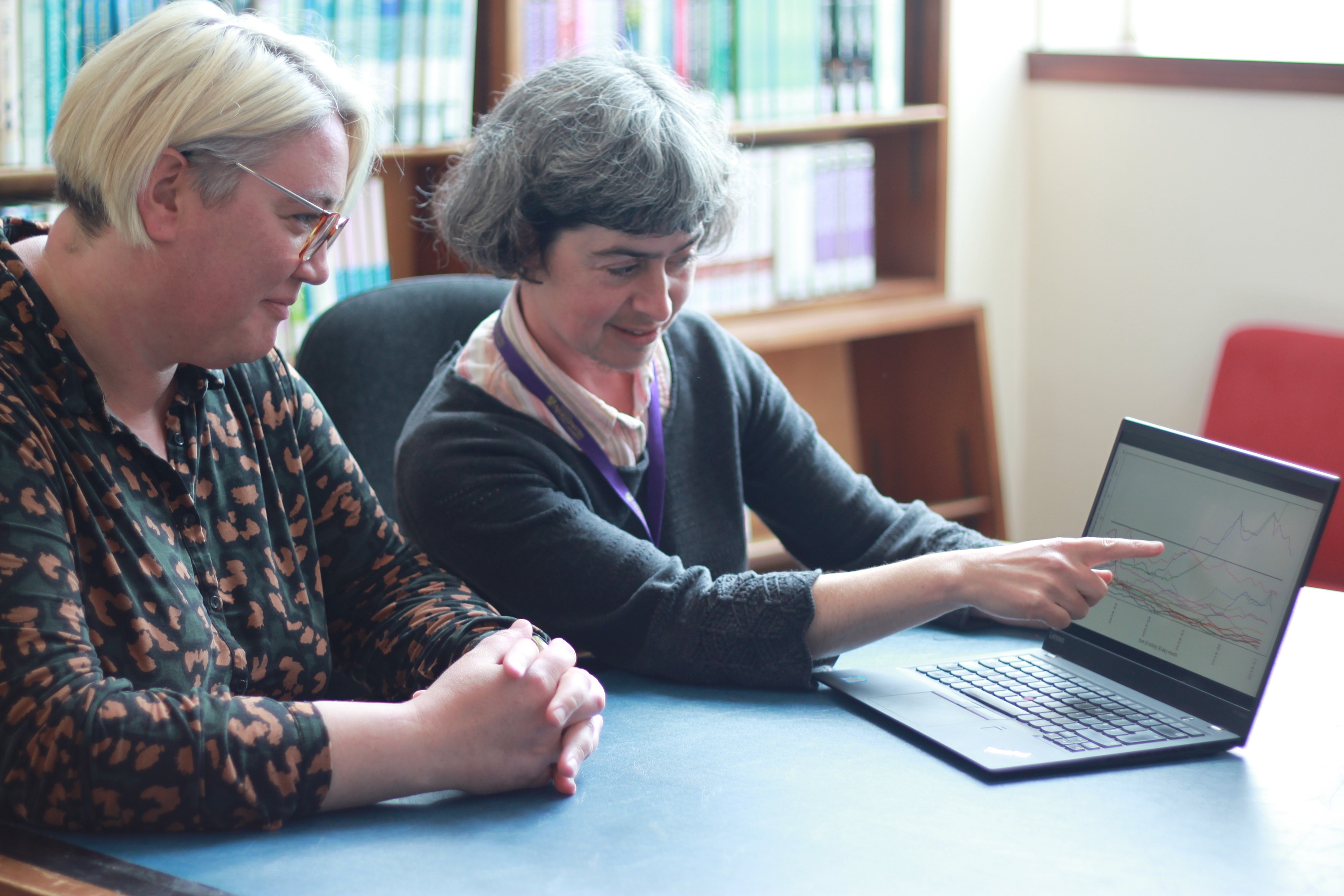 Dr Katherine Martin (Dŵr Cymru Welsh Water) and Dr Amanda Clare (Aberystwyth University) using the artificial intelligence model.
Dŵr Cymru Welsh Water is to use artificial intelligence (AI) systems built by Aberystwyth University to monitor the effectiveness of its water treatment processes.
Water passes through banks of filters and other treatment processes before it is safe to drink. At each stage, it is measured for its amount of solid material, acidity, flow rate, chlorine, and how clear it is.
The filters are equipped with sensors that alert operators if any problems occur or they need maintenance. The information from these sensors currently acts as an alarm rather than giving early warnings about problems or giving the reason for an issue.
However, the information from the sensors could be used to tell Dŵr Cymru Welsh Water more about the treatment processes. An AI system built by Dr Amanda Clare, Senior Lecturer in Computer Science at Aberystwyth University, will warn engineers of any emerging issues, making Welsh Water's infrastructure more efficient and reliable.
The AI model will be based on 15 years of data from the filtration system and will also be used to identify upstream risks to drinking water, again allowing any issues to be dealt with pre-emptively. The technology will also be used to predict the likes of anomalies, the degradation of the filtration systems and seasonal weather's effects on the infrastructure.
The work is funded by an industrial fellowship from the Royal Academy of Engineering.
Dr Amanda Clare said: "This is an excellent demonstration of how universities and industry can collaborate on high-tech engineering ideas. By applying data science and AI technology to these water treatment plants and their huge amounts of real-time data, we can make a real difference to the reliability of our water quality.
"The advantage of technologies like data science and AI is its ability to detect patterns and exceptions to those patterns. Projects such as the one we are doing with Dŵr Cymru Welsh Water is just one instance of how effective and automated use of continuous data can inform decisions and lead to timely maintenance."
Dŵr Cymru Welsh Water supplies more than three million customers across Wales and parts of England with more than 800 million litres of drinking water each day.
Dr Katherine Martin, a Water Quality Risk Manager at Dŵr Cymru Welsh Water, and a graduate of Aberystwyth University, said: " At Dŵr Cymru Welsh Water, supplying a first-class water supply at all times is a priority to us. Our long-term vision of continuous improvement and innovating includes more data-driven control and analysis. The aspiration is that we will be able to use AI to work more efficiently and to identify risks to water quality earlier".