Annual staff and student awards presented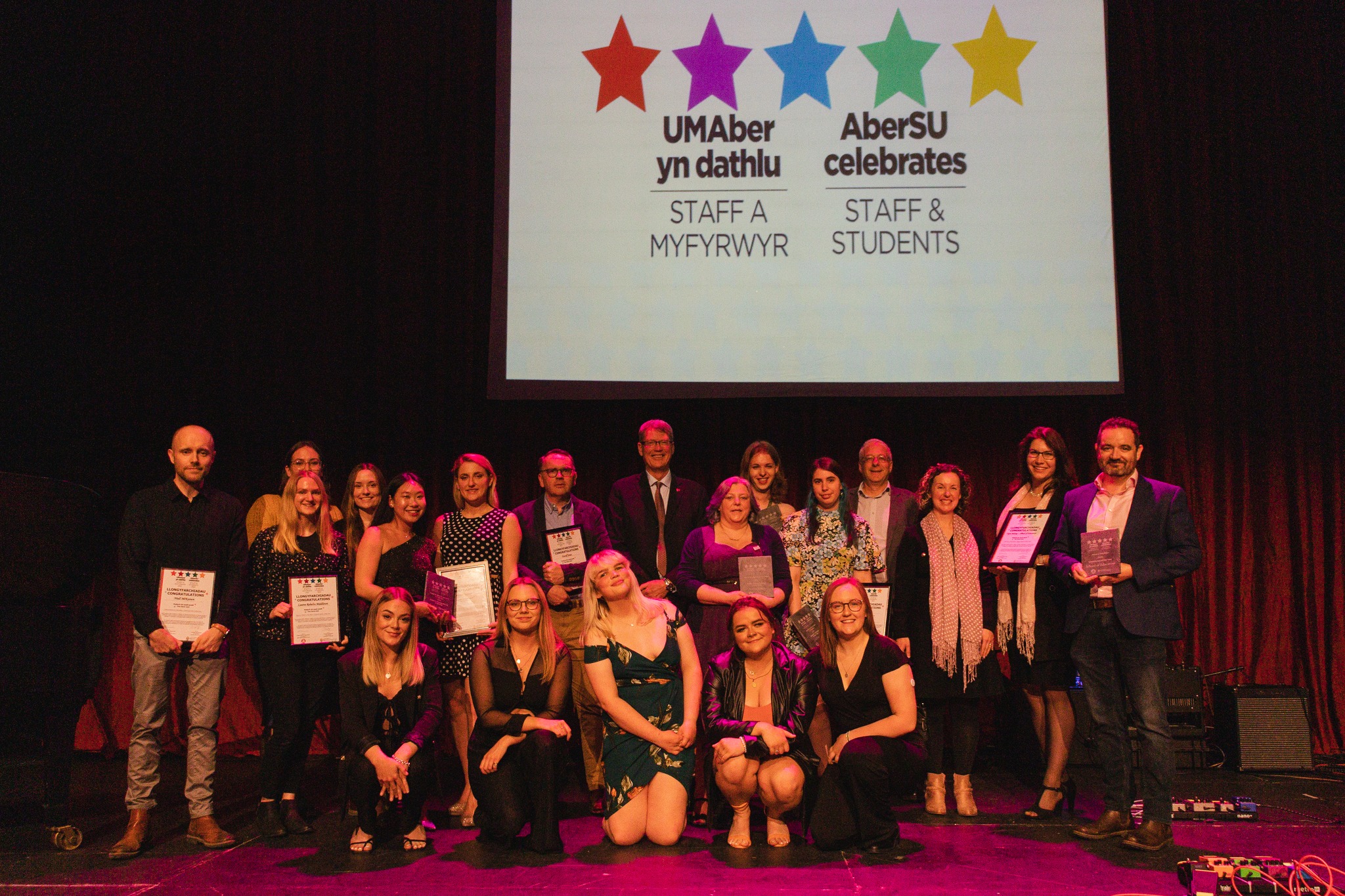 Winners of the AberSU Staff and Student Awards 2022
The School of Education was crowned Department of the Year at the Aberystwyth Students' Union Staff and Students Awards 2022, which were held on 3 May at Aberystwyth Arts Centre.
Organised annually by Aberystwyth Students' Union with the support of the University, the awards recognise and commend the contributions of staff and students to the Aberystwyth student experience. 
Taking the coveted title of Department of the Year 2022, staff from the School of Education were praised by nominees for creating a welcoming environment, supporting student wellbeing, providing a high standard of teaching and support with assignments, and working together to make students feel proud to be part of the department.
Elizabeth Manners, Aberystwyth Students' Union Academic Affairs Officer for 2021-22 said: "Congratulations to all those who were nominated for an award this year. The nominations received are true testament to the fantastic staff and students we have here at the University. We received over two hundred nominations this year, many of which detailed how staff members and their peers have gone above-and-beyond to help students have the best possible experience here at Aberystwyth."
Professor Tim Woods, Aberystwyth University's Pro Vice-Chancellor: Learning Teaching and Student Experience, said: "After two years of celebrating the Staff and Student Awards online, it was such a pleasure to be able to once again enjoy the wonderful atmosphere of the event in-person. From the nominations this year, it was particularly apparent that students have hugely appreciated the University staff who have given their care, support and assistance during an uncertain year impacted by the Covid-19 pandemic. Congratulations to all the students and staff who won or were nominated for one of this year's awards, but hearing the heart-warming testaments from our students this evening, I would say that it's clear that the whole University is a winner."
The winners of the AberSU Staff and Students Awards 2022 are:

Department of the Year:
School of Education
Lecturer of the Year:
Dr Val Nolan, Department of English and Creative Writing
Personal Tutor of the Year:
Dr Niall McKeown, Institute of Biological, Environmental and Rural Sciences 
Supervisor of the Year:
Dr David Ceri Jones, Department of History and Welsh History
Support/Service Staff Member of the Year:
Karen Twinney, Hospitality Team
Postgraduate Teacher of the Year:
Andra Jones, Department of Computer Science
Academic Representative of the Year:
Bethan Stewart
Student Mentor of the Year:
Lauren Rebecca Middleton
Student Staff Member of the Year:
Rae Hughes
Student Volunteer of the Year:
Zoe Hayne