Wales/Ireland rural tourism project launches with aim to increase tourists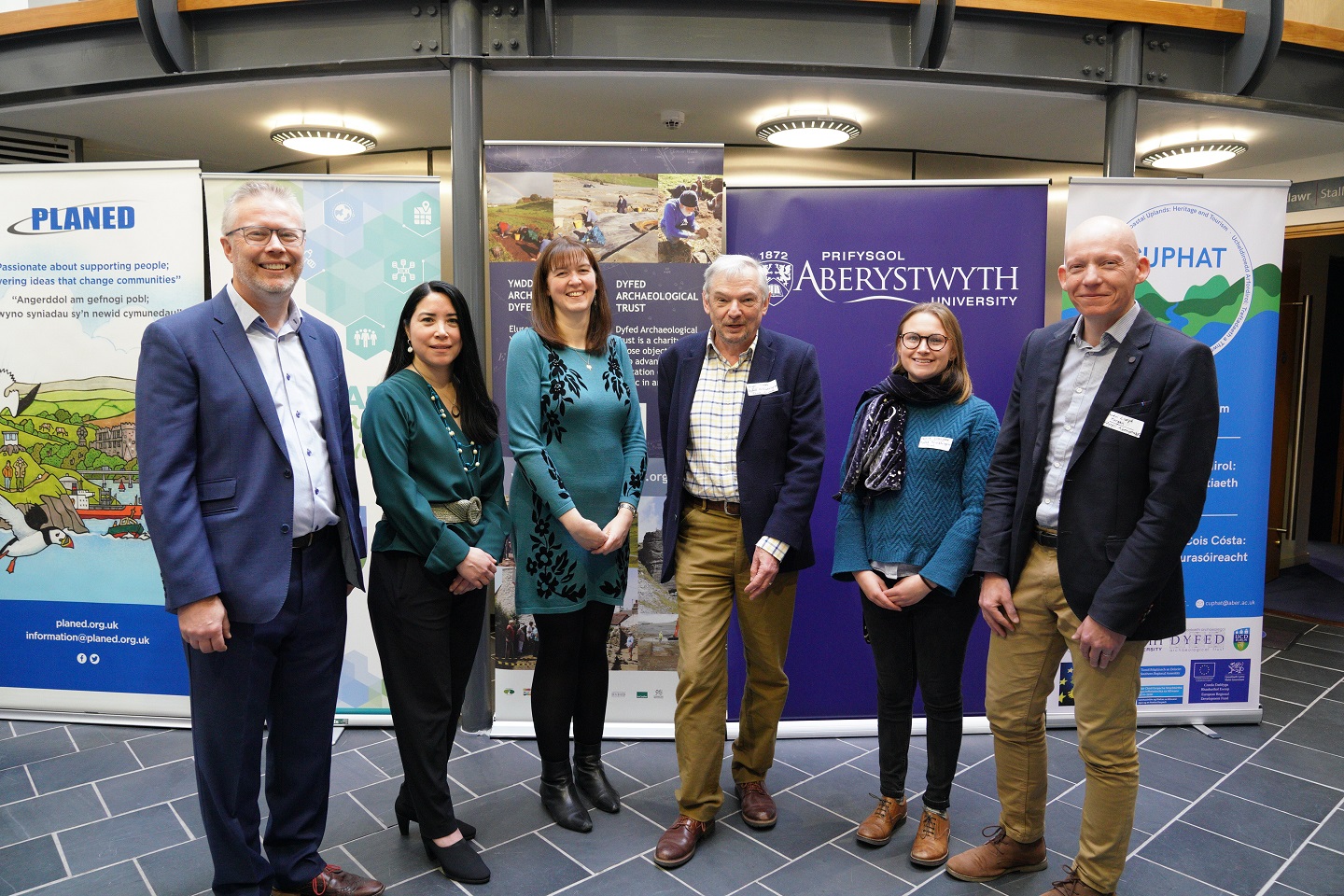 Left to right: Professor Rhys Jones, Aberystwyth University; Dr Christine Bonnin, University College Dublin; Dr Arlene Crampsie, University College Dublin; Nigel Clubb, Dyfed Archaeological Trust; Jessica Domiczew, Dyfed Archaeological Trust; Dr Rhodri Llwyd Morgan, Aberystwyth University.
A new €3 million European project aimed at boosting sustainable tourism in rural parts of Wales and Ireland has been launched.
The Coastal Uplands Heritage and Tourism (CUPHaT) project is led by Aberystwyth University, working with University College Dublin and the Dyfed Archaeological Trust.
It is supported by €2.4m from the European Regional Development Fund through the Ireland Wales Cooperation programme.
The scheme will last for two years and use the cultural and natural heritage assets of the Cambrian Mountains, Preseli Hills, Wicklow Mountains and Blackstairs Mountains to promote sustainable tourism.
The project team will work on how technology can boost the visitor experience, creating a tourism network and joint marketing campaign, and working with schools and others to chart local cultural histories.
The objective is also to boost the local economies of both areas by fostering the creation or expansion of eight local microenterprises.
The target is to increase tourist numbers by 5% by the end of the project.
Professor Rhys Jones, from the Department of Geography and Earth Sciences at Aberystwyth University, said: "This is an extremely ambitious project that will make a big difference in rural and coastal communities in the east of Ireland and west of Wales. It will also help overcome the challenges of Brexit and the COVID-19 pandemic by driving more sustainable domestic and international tourism.
"Both Wales and Ireland have a commonality in boasting a rich but varied cultural and natural heritage. This project will strengthen the already robust links between the two countries and will help us learn more about each other.
"Crucially, this will also offer tourism that works for the local community and gives something back. It will regenerate rather than take away from areas."
Dr Arlene Crampsie and Dr Christine Bonnin from University College Dublin said: "This project will showcase the shared and distinctive heritages of the coastal uplands of Wales and Ireland bordering the Irish Sea. It highlights the potential for cultural and natural heritage resources to assist communities in co-creating and connecting sustainable tourism offerings.
"CUPHaT provides an exciting opportunity to unlock innovative technological and citizen science-based approaches to increase awareness of the richness of our mutual landscapes and widen accessibility to these sites for local communities and tourists alike. By working together to develop locally appropriate tourist activities that support rural economic development, this work will help address some of the sustainability challenges facing coastal upland communities."
Jessica Domiczew, Project Officer at Dyfed Archaeological Trust, said: "The Cambrian Mountains and Preseli hills have an abundance of archaeological sites that show the richness and diversity of Welsh history. Projects such as these helps connect communities to this heritage and strengthen ties with Ireland. It will also attract more tourists to some of Wales hidden treasures through a more sustainable and different kind of tourism."