Latest recipient of the Aberystwyth University and Aberystwyth Town Football Club Scholarship announced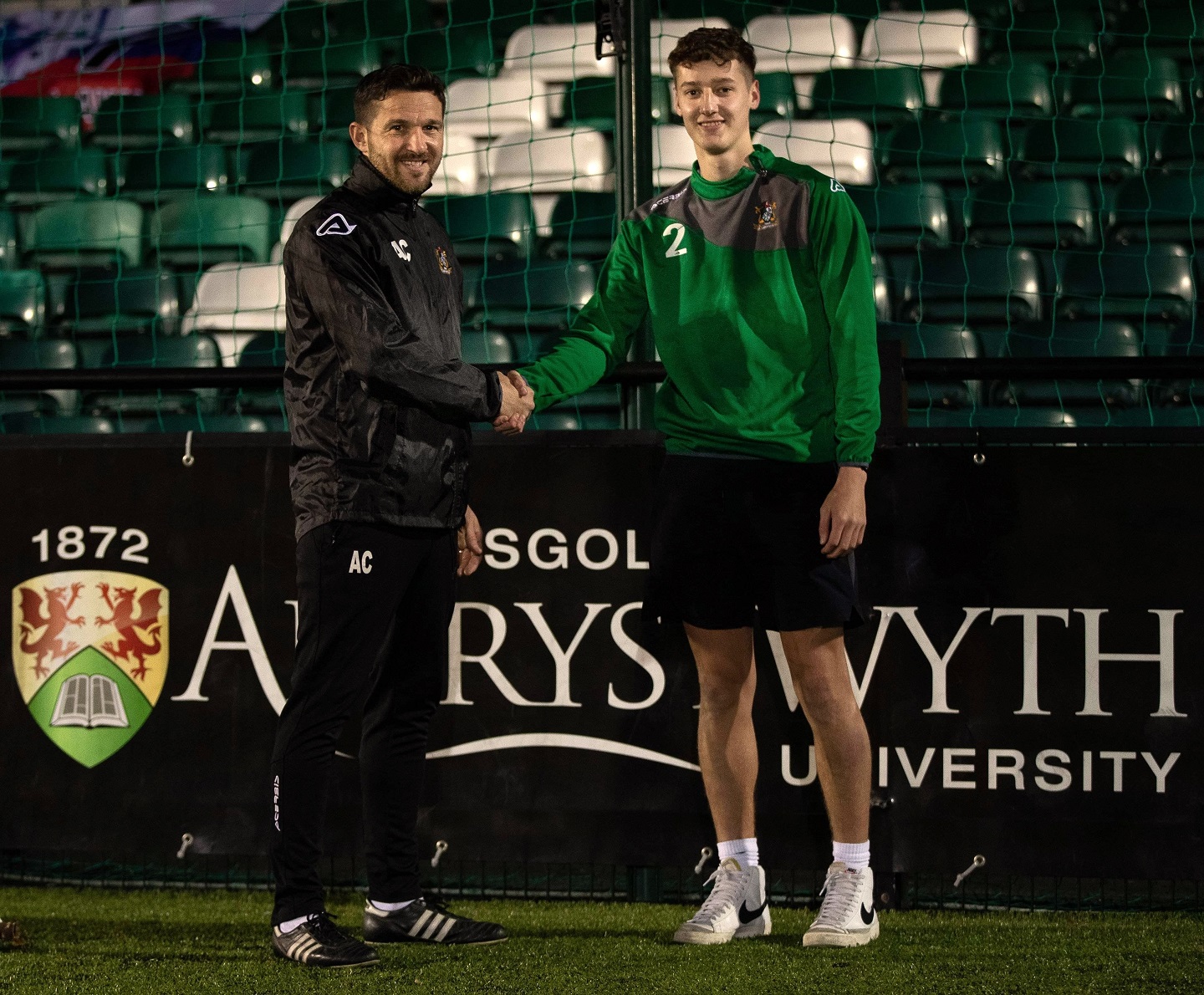 Aberystwyth Town Football Club first team manager Antonio Corbisiero (left) with Aberystwyth University and Aberystwyth Town Football Club Scholarship holder, Kieran Booker
18 year old Sport and Exercise Science student, Kieran Booker, is the latest recipient of the Aberystwyth University and Aberystwyth Town Football Club Scholarship.
The scholarship is for gifted football players, male or female, who play for Aberystwyth Town's first team in the Welsh Premier League and also the Aberystwyth University BUCS (British Universities & Colleges Sport) football team whilst studying at the University.
Worth £4,000, the scholarship also provides a range of additional benefits including Platinum membership of the University Sports Centre, football coaching development opportunities, medical insurance, access to physiotherapy, match and training kits.
Kieran, from Tonyrefail in south Wales, who joined the University this autumn, said: "I'm so grateful to have been given this opportunity. I've always aspired to play at the highest level of football and being able to play at this level with Aberystwyth is an amazing feeling and achievement for me. I'm looking forward to working hard at AberTown but also working just as hard in University. I am really enjoying my course so far and have met lots of new friends. I can't wait to see what this year has in store for me with AberTown and the University."
Having been awarded the scholarship, Kieran is following in the footsteps of fellow recipients Mathew Jones, Alex Pennock and Joshua Beard. The first recipient of the scholarship, Mathew Jones, who has already amassed over one hundred appearances for Aberystwyth Town FC, graduated from the University this summer.
The scholarship is jointly funded by Aberystwyth Town FC and the University's Aber Fund, which receives donations from Aberystwyth University alumni all over the world.
Aberystwyth Town Football Club Chairman Donald Kane, who completed his degree at Aberystwyth University, said: "On behalf of Aberystwyth Town Football Club I'd like to congratulate Kieran and wish him a warm welcome to Park Avenue. Kieran will quickly learn that he has joined a great club playing in the top division of Welsh football and we hope his experience with us is an enjoyable and rewarding one. Kieran will also be joining a fantastic University which gives its students a great opportunity to enjoy the Aberystwyth experience, where so many, like myself, enjoy themselves so much that they never leave."
Professor Tim Woods, Pro Vice-Chancellor Learning Teaching and Student Experience, said: "I congratulate Kieran on becoming the latest recipient of the Aberystwyth University and Aberystwyth Town Football Club Scholarship. The scholarship is a symbol of the long-standing relationship that the University has had with the 'Seasiders' for well over a century, and offers a wonderful opportunity for talented footballers who wish to play high-level football whilst pursuing their studies. Congratulations also to the first recipient of the scholarship, Mathew Jones, who has now completed his degree at the University and joined our family of Aberystwyth alumni."
The closing date for applications for the Aberystwyth University and Aber Town Football Club scholarship is 15 July 2022. Full details and the online application form can be found at: www.aber.ac.uk/scholarships.  Applicants are also welcome to contact Aber Town FC to discuss suitability: abertownfc@live.co.uk