Aberystwyth academic to curate international exhibition of theatre architecture and performance space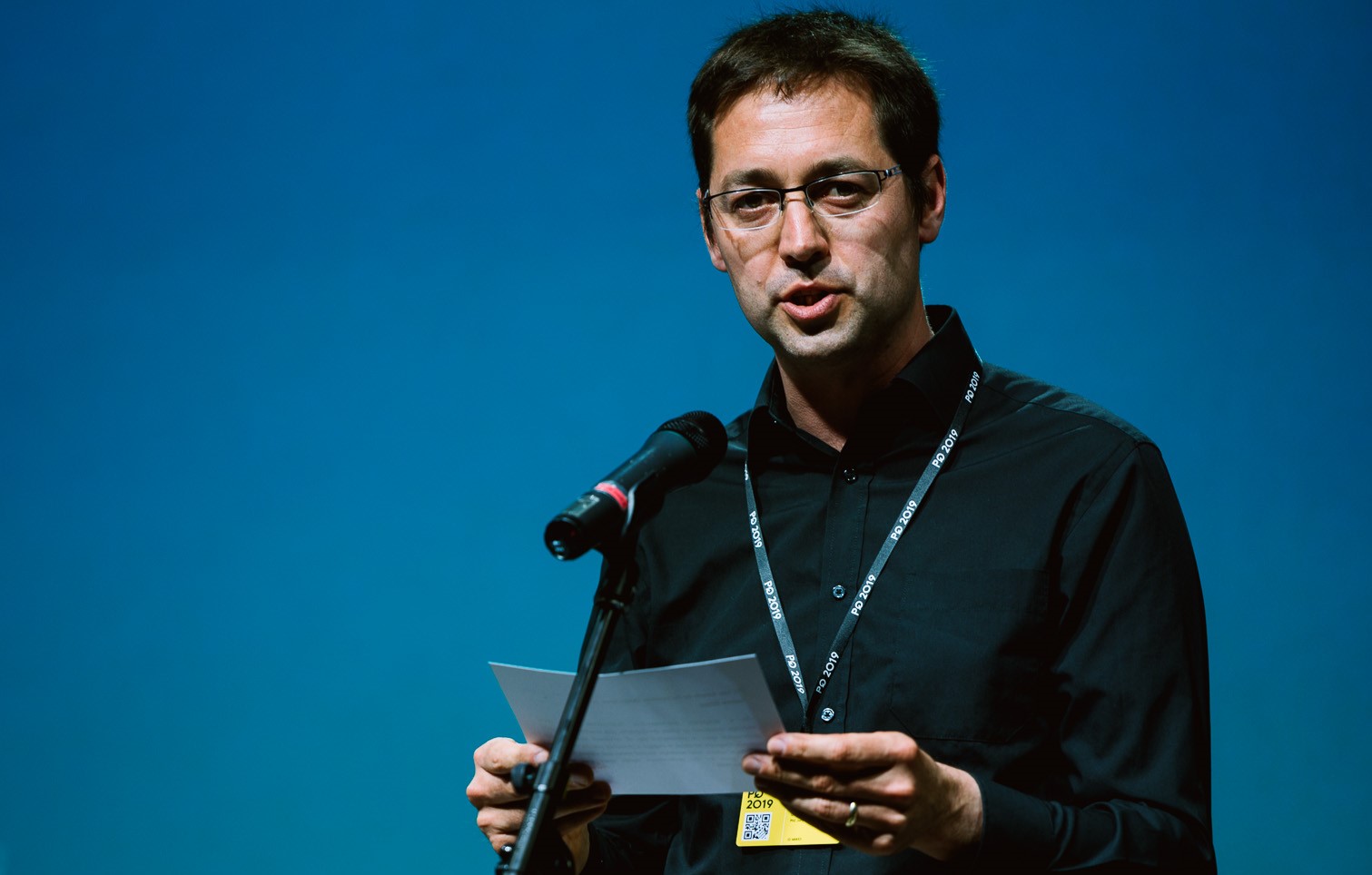 Dr Andrew Filmer. Photo courtesy of PQ
An academic from Aberystwyth University has been appointed to the international artistic team behind the world's largest exhibition of theatre design and scenography.
Dr Andrew Filmer from the Department of Theatre, Film and Television Studies has been appointed to curate the Performance Space Exhibition for the 15th Prague Quadrennial of Performance Design and Space which takes place from 8–18 June 2023 at the Pražská Tržnice in Prague, Czech Republic.
Established in 1967, the Prague Quadrennial (PQ) brings the best of design for performance, scenography and theatre architecture together to be experienced by professional and emerging artists as well as the general public.
Dr Filmer will be one of the PQ curatorial team which is responsible for offering the festival's participants a fresh look at the artistic production of our times in performance design and scenography.
The PQ 2023 theme is 'Rare', and will take into consideration the strange and precarious world of uncertainty we live in.
Scenographers, set designers, spatial artists, architects, theatre designers, and performers from over 90 countries will use their imagination and creativity to help people envision what the world and theatre could look like in the post-pandemic future.
Dr Filmer, a Senior Lecturer in Theatre and Performance, said: "It's a great honour to take on the role of curator of the Performance Space Exhibition for the PQ in 2023. The PQ is an inspiring event that brings people together to experience and discuss the richness of performance design and scenography. My hope is that the Performance Space Exhibition in 2023 will offer an expanded sense of what performance space can be in a variety of settings, environments and cultures."
Dr Filmer's appointment extends a history of involvement by staff from the Department of Theatre, Film and Television Studies in the PQ.
Professor Simon Banham, the current Head of Department, was PQ Commissioner of the Weather Exhibition in 2015 and part of the UK Gold Medal winning exhibition in 1994.
Mr Richard Downing's work was displayed as part of the UK exhibition in 2007 and he was invited to lead a Space-Lab Workshop in 2015.
Both were invited to design and curate the PQ SharedSpace Symposium in 2014.
Originally from Sydney, Australia, Dr Filmer joined Aberystwyth University in 2008.
His research explores the sites of encounter between performance and architecture.
He is currently working with National Theatre Wales on the Ever After Project which is exploring theatre and performance in the era of COVID-19, and considering how the processes of theatrical production and theatre aesthetics might be reconfigured in the light of the conditions imposed by the pandemic and in the post-pandemic future.