SELFISH: The Selfing Game
SELFISH (http://selfish.dcs.aber.ac.uk/) is a new Student E-Learning tool For Investigating Selection Hypotheses. It allows to explore the advantages and disadvantages of self-fertilisation versus outcrossing using a self-fertilising fish (Kryptolebias Marmoratus) as a model. The objective of the game is to survive and produce as many offspring as possible!
SELFISH has been designed by Matthew Harrison-Jones (matthojo@gmail.com) from an original idea of Sonia Consuegra (skc@aber.ac.uk) from IBERS and Amanda Clare (afc@aber.ac.uk) and Bernie Tiddeman (bpt@aber.ac.uk) from The Computer Science Department.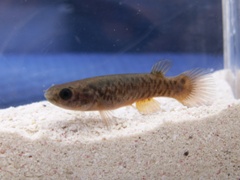 Additional information is available at:
http://rspb.royalsocietypublishing.org/content/279/1749/5004.short
http://onlinelibrary.wiley.com/doi/10.1111/j.1558-5646.2011.01354.x/abstract
http://onlinelibrary.wiley.com/doi/10.1002/ece3.289/full
http://www.nature.com/news/how-to-avoid-the-pitfalls-of-inbreeding-1.11639