Farm Business Survey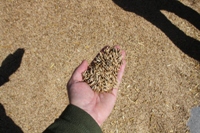 The Institute of Biological, Environmental and Rural Sciences (IBERS) in Aberystwyth has now published its annual report Farm Business Survey in Wales: Statistical Results for 2011/2012.
The Survey covered a representative sample of 570 farms in Wales which included all major farming types.
The published report provides detailed financial results by farm type and size, various measures of farm income, farm balance sheet data, and gross margins for the main livestock enterprises in 2011/2012.

More details of the results are available from the Institute and from its web-site: http://www.aber.ac.uk/en/ibers/enterprise-kt/fbs.