In Search of a Greener Biofuel
25 November 2009
In search of a greener biofuel
Representatives of the farming industry, technology companies, fuel manufacturers and distributors are working with researchers at Aberystwyth University (AU) to develop a more sustainable method of producing biofuel.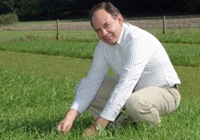 The three year Grassohol project is focusing on sugar-rich varieties of perennial ryegrass, developed at Aberystwyth University's Institute of Biological, Environmental and Rural Sciences (IBERS), as a raw material for producing bio-ethanol.
Every link in the production chain is being studied in detail by the project team - from the farmer right through to the biofuel distributor - to develop a commercially viable biofuel production process which has minimal impact on the environment.
The project brings together the expertise of eight partners who are leaders in their respective fields; Aber Instruments Ltd, Alvan Blanch, Germinal Holdings Ltd, IBERS, National Farmers Union, ONE 51 Plc, TMO Renewables and Wynnstay Group Plc.
It is supported by the Department for Environment, Food and Rural Affairs (Defra), the Department of Energy and Climate Change (DECC) and the Biotechnology and Biological Sciences Research Council (BBSRC) through the Renewable Materials LINK programme, and by the Welsh Assembly Government's Academic Expertise for Business programme, supported by European Structural Funds.
"The Grassohol project has only been made possible by the invaluable expertise that each partner brings to the table," said IBERS research scientist and Project Director Dr Joe Gallagher. "It offers significant potential for biofuel production and the involvement of each partner demonstrates the commercial importance of the research as we move inexorably towards a bio-based economy."
"Farmers in the UK are experts on growing pasture and the use of these crops for biorefining will make an important contribution to both farm income and the UK economy whilst maintaining the traditional look of the countryside", he added.
The team are using high-sugar varieties of perennial ryegrass and experimenting with different soils, fertilizers and companion crops such as white clover, with the aim of reducing dependency on artificial oil-based fertilizers.
Dr Kirstin Eley, Project Manager at TMO Renewables, supports Dr Gallagher's enthusiasm for the research, commenting "This is a real opportunity to demonstrate the potential of a commercially relevant process using an abundant UK non-food crop feedstock and we are excited to be a part of this collaboration, working alongside other leading groups."
Early results are promising and indicate that up to 4,500 litres of ethanol per hectare of ryegrass could be produced every year, comparable with other energy crops but with the advantage of being environmentally friendly, capable of growing on poorer land and with cheaper management costs.

Renewable Materials LINK
LINK is a means by which the UK Government encourages collaborative research for innovative and industrially-relevant research to support its wealth creation and quality of life goals. The Renewable Materials LINK programme encourages investment in research and the exchange of knowledge between the private sector and the research base in furthering the non-food uses of renewable materials to support sustainable development.
Project partners
Aber Instruments Limited
Develop and manufacture high specification scientific instruments to monitor microorganisms and fibre digestibility during fermentation to improve the efficiency of the process and reduce costs.
Alvan Blanch
An engineering and manufacturing company with extensive expertise in agricultural machinery for processing crops on farm. They will assess the economic viability of on-farm processing of grass juice into partially processed bio-ethanol.
Germinal Holdings Limited
Grow and market new grass varieties for the agricultural and amenity sectors. They are providing seed of selected grass and clover varieties as well as a valuable insight into their agronomy.
IBERS
The world renowned centre for grass and clover breeding, with international expertise in forage agronomy, processing and chemistry will grow and process the grasses and clovers used in this project. Responsibilities include the harvesting, processing and fermentation of the grass juice and developing procedures to stabilise fibre fractions. IBERS will conduct the Life Cycle Analysis with input from each of the consortium members.
National Farmers Union
Advise on the economic and logistical viability of producing bioethanol from high sugar grasses. Through its network of professional advisors NFU provide important feedback on pasture management from the livestock sector.
ONE 51 Plc
Provide economic and logistical advice with emphasis on the transportation of liquid grass via tankers.
TMO Renewables
Main industrial partner with extensive experience in developing second-generation biofuels produced from biomass or bio-waste rather than virgin crops. TMO's unique high-temperature fermentation process boasts high efficiencies and fast conversion rates. In addition to providing laboratory and production facilities, TMO will conduct pilot and large scale fermentation trials.
Wynnstay Group Plc
Focussed on farmer service, they have logistical expertise in the distribution of agricultural products, and provide valuable insight into grassland agronomy, on-farm equipment and feedback from the farming community.
Project Drivers:
Renewable Transport Fuel Obligation (RTFO). The UK is committed to substituting 5% of its gasoline consumption with bio-derived fuels by December 2013.
Fuel Security: Current transport biofuel production in the UK is modest and demands are met mostly by bio-ethanol imports from countries such as Brazil.
Climate change: Opportunity to reduce the UK's CO2 emissions.
Rural economy: Offers grassland farmers an alternative income to livestock
Food vs. Fuel: In the UK, first generation biofuel crops (e.g., wheat, sugar beet and oilseed rape) require arable land, which is primarily used for food production and has a high energy input requirement. Grasslands comprise up to 70% of UK agricultural land greatly exceeding the area used for food crops. The production of biofuel from such land has the potential to mitigate the perceived food versus fuel conflict.
Wider context:
By 2020, 10% of all transport energy used in EU countries will need to be from a renewable source.
In the EU, bio-ethanol demand is anticipated to rise to 25,000 million litres by 2020. This will represent a significant market opportunity. Even 10% of this market would represent a significant commercial business for the UK biofuels industry.
1.2million hectares of land in the UK is currently re-sown grassland with a further 5.2million hectares classified as improved grassland i.e. not re sown in the last five years but excluding rough grazing. The use of re-sown grassland offers a significant opportunity for UK grassland farmers.
Why perennial ryegrass?
Production of biofuel from 'second generation' lignocellulosic crops such as grasses offers a potential alternative to current feedstocks.
Traditionally grown throughout the UK
Achieves similar biomass yields to other lignocellulosic crops used for biofuel production
Low annual input requirements
Contributes to the rural landscape, maintaining landscapes which are major attractants for the tourist industry.
UK farmers have the necessary expertise involved in management.
This crop is in the ground now.
Highly fermentable with a high water-soluble sugar content, high fibre digestibility and low lignin content in comparison with other candidate lignocellulosic crops.