New IBERS Farms Advisory Board
Following the merger of IGER into Aberystwyth University to form IBERS, the Institute's research and commercial farm activities have also been merged into a single operation. The new University farms now comprise 6 separate units, over 1100 hectares of land and involve a wide range of crop and livestock enterprises.
Professor Wayne Powell, Director of IBERS said
"The challenge is to develop a new farms strategy that will secure the provision of the very best research facilities and at the same time improve commercial performance. One example is AU investing in new facilities at Trawscoed, re-inforcing the IBERS commitment to support and work with the agricultural sector."
A new IBERS Farms Advisory Board has been established that will meet twice a year to contribute to the strategic development of Aberystwyth University Farms, and to ensure that activities not only meet the requirements of research, but are also aligned with the needs of producers, processors and retailers in the UK food sector.
" IBERS is delighted to have secured the commitment of this high calibre membership to the Farms Advisory Board; representing the many facets within the industry" said Professor Powell.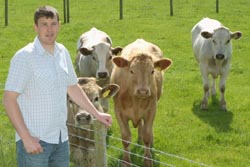 Dr Huw Mc Conochie, IBERS Farms Manager
IBERS Aberystwyth University Farms Advisory Board Members:

Mr Gareth Davies
Head of Agriculture
Wynnstay Group Plc

Mr David Edwards
DWE Consulting Ltd
Mr Gareth Evans
Company Secretary,
Celtic Pride Ltd
Mr Huw Gwillim
Agri-Food Regional Manager Food, FMDD
Welsh Assembly Government
Mr David Wynne Finch
Wynne Finch Farms
Mr Anthony O'Regan
Director of Farm Business Survey
IBERS
Mr Duncan C Sinclair
UK Agriculture Manager
Waitrose Ltd
Mr John Lloyd Jones OBE
Chairman,
Countryside Council for Wales
Professor Martin Jones
Pro Vice Chancellor
Institute of Geography and Earth Sciences
Aberystwyth University
Dr Huw Mc Conochie
IBERS Farms Manager
Dr Sinclair Mayne
Departmental Scientific Advisor
Department of Agriculture and Rural Development Northern Ireland