Roy Kift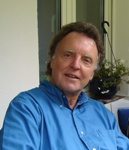 Roy Kift graduated with a BA in French and Italian in 1965 and has since pursued a career in the theatre, acting, writing, translating and directing. He currently lives in Germany.
What do you remember most about your time at Aber?
The town was so small that our social life was willy-nilly confined to the college (as it was then) and everybody seemed to know everyone else - which of course had its advantages and disadvantages. The Friday debating club was a weekly highlight and I spent most of my time acting in the dramatic society. The sea was glorious at all times of the year, and the fact that I could swot for my finals on the beach and then have a swim blended my work with a feeling of being on holiday. At the time Aber was one of the few universities in GB which offered language students an extra year abroad working as an assistant in a school: this was invaluable not only in improving my French but also in terms of my personal growth.
What are you doing now career-wise and how has your Aberystwyth degree helped?
I have been a playwright now for the past 50 years, (it all started when I won the University of Wales Eisteddfodd playwriting prize after making a drunken bet in an Aber pub!) and have been living in Germany since my first world hit "Stronger than Superman" (it was only a flop in London) premiered in Berlin in 1981 where it was performed 216 times over a period of three years. My Aber degree in French helped me sell my first translation, Molière's "Monsieur de Pourceaugnac", as a radio play to the BBC . I used the income to have proper typing lessons and buy a good typewriter and this gave me the tools I needed to proceed with my career. Since then, as well as writing my own plays I have also translated plays from Italian and German into English.
For more, see my homepage www.roy-kift.com and Wikipedia.
What advice would you have for a student doing your course now?
Don't do your course because you think it will get you a good job and earn you a lot of money. Enjoy the work for its own sake and then your time in Aber will be truly enriching.