Paula Edze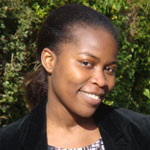 Paula left Aber in 2009 with an MSc in Environmental Monitoring & Analysis.
What do you remember most about your time at Aber?
I have a lot of beautiful memories of Aberystwyth - the beautiful scenery, taking a stroll at the sea front with my friends and watching the sun set in summer, warm people, walking up hill to Penglais campus and back, riding the bus to Llanbadarn for note-taking, running down the stairs to the front of Brynderw for routine fire drills, doing research at Hugh Owen Library and using the National Library of Wales on weekends, working on assignments with my course mates, serving as a Graduation Marshall in 2008, et cetera.
What are you doing now career-wise and how has your Aberystwyth Degree helped?
I have been working in the energy sector since returning to Ghana in 2009. I do a lot of policy advocacy work in the energy sector, develop and implement renewable energy projects, research, education and capacity building programmes. I am currently working in Ghana's promising oil and gas sector. Although what I do now may seem unrelated to what I studied in Aber - Environmental Monitoring and Analysis (MSc) - I am proud to say that knowledge and skills acquired from Aber has helped me become a very versatile person. I was able to study and excel in environmental geochemistry and related subjects as part of my course at Aber. This was not too hard thanks to the wonderful and selfless teachers (not lecturers) I had. Knowledge and skills acquired in project proposal writing, preparing a tender document, conducting a research, analyzing data and report writing have been very useful in my current line of work. I also had the opportunity to attend a series of workshops and seminars on climate change and renewable energy technologies organized by some university departments at Aber and this has been very helpful in what I do now. Aber really gave me the strong foundation I needed to make it this far.
What advice would you have for a student doing your course now?
Never underestimate the importance of any course you take or assignment you are given - you will need it someday. Give your best in doing group work because it will help you to become a good team player in the corporate world. And enjoy every single bit of your student life - study hard and have fun in moderation.