Michael Morgan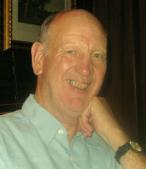 What do you remember most about your time at Aber?
I treasure fond memories of kicking the bar, great singing sessions, playing for the soccer first team but most of all the fun and communal spirit. I was not in any sense a great academic but my Aber degree was never less than an excellent passport into a satisfying and rewarding career.
I think I can credit Aber with providing the basis for lasting friendships as my wife and I have holidayed with a fellow Pantycelyn resident (a friend for 54 years) and his wife.
What are you doing now career-wise and how has your degree helped?
I graduated with a degree in Physics in 1965 and after 18 months in the computer industry I joined a relatively small dairy company. That small company became a major food Group and as it grew so I progressed with the result that in the late 1980s I was a main Board director of Northern Foods which stood at number 60 in the FTSE 100
I left Northern in 2000 after 33 years to become a founding Partner of Praesta LLP a major Executive Coaching organisation based in London's West End from which I retired in 2010
Alongside my business career I enjoyed extensive involvement in the Public and Charity sectors including among other things Vice Chair of Northern and Yorkshire Regional Health Authority which covered some seven million people and for 10 years I was a member of the Sentencing Advisory Panel which advised the Lord Chief Justice's Group on sentencing in the courts.
Currently I am the Senior Independent Director of the Thera Trust, a major charity which employs over 3000 people supporting clients with a Learning Disability.
I give the above résumé not to claim any great distinction but to pay tribute to the launching pad that Aber provided for me. Like many others coming from a working-class, council house background I found Aber had an intimacy which allowed a wonderful opportunity to mix with a range of fellow students from all walks of life and gain confidence in what one was as opposed to one's circumstances.
What advice would you have for a student doing your course now?
Make the most of the fun and communal spirit of Aber - I doubt whether this close College environment would be possible in many other universities.