Khaled Ibrahim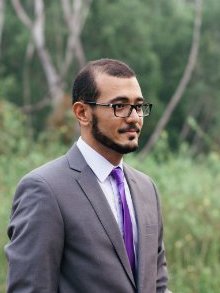 Khaled graduated from Aber in 2013 with a MScEcon in Management and Marketing.
What do you remember most about your time at Aber?
How easy life is at Aber. For example, it was so easy to find a book in the library, to find the materials I needed online with "Blackboard" , to discuss work with friends and colleagues - Aberystwyth University has a really brilliant system to facilitate study and also other aspects of life; sports, studying, accommodation and fun! It was lovely to go for a walk with friends in Aberystwyth at the seafront. Such a lovely town, with a respected university, friendly people, and a positive environment.
What are you doing now career-wise and how has your Aberystwyth Degree helped?
My Aberystwyth degree gave me a deep understanding of management. Aberystwyth degree is recognised internationally, I have worked in Egypt, Mexico and Singapore. Now, my experience covers education and training management.
I'm looking forward to continuously learn and improve in my job.
What advice would you have for a student doing your course now?
You have a great opportunity to learn real and valued knowledge and skills with professional academic staff. Get the best out of everything you do there. Management and marketing require "continuous knowledge", make sure that you link the topics together and keep yourself updated by reading a lot. As long as you read and understand, you will do great and get good grades.