Jennifer Jenkins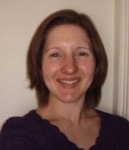 Jennifer graduated from Aber in 2004 with a BA in Drama.
What do you remember most about your time at Aber?
Aber was a home from home. I loved the landscape and living in a small place with everything being either up or down the hill. There was a great sense of community everywhere around campus and town. I made lifelong friends and met so many interesting people. Academically, it was stimulating: especially with the hard work involved in the drama productions. I also have some great memories of my days in Dim Prob and the symphonic orchestra.
What are you doing now career-wise and how has your Aberystwyth Degree helped?
I am working as a freelance teacher of English as a foreign language. I teach children and adults privately and in institutes. I first came to Chile during a gap year project and planned to return to the UK. Destiny possibly had other ideas, as I followed my heart and stayed in Chile, which meant that English teaching was the most obvious career option for me. I studied Drama at Aber and although I'm not teaching drama, there's clearly something theatrical linked to teaching as one of my students told me I should have been an actor! My drama degree helped me develop those very important people skills that are essential in all careers, but are especially important when you are working with students of all ages. To a certain extent, I have to act a little in some classes. Sometimes I explain something physically rather than verbally and at times, in order to motivate my students, I need to act like a clown to either get their attention or to make them smile. I personally think that drama is a great background for any teacher to have.
What advice would you have for a student doing your course now?
Read as much as possible! A lot of drama theory is fascinating, especially when it feeds in to the practical aspects of drama. It's impossible to make the most of the practical side, however, if you don't have that theoretical base. Enjoy the wide reaching possibilities that drama offers you. Not everyone finds a job that is directly linked to drama, but a drama degree can give you a lot of experience in different areas that can be applied to a lot of different jobs. Also, take every possibility you have to be involved in productions and to see productions. I was on the stage crew for a Welsh language student production and for a professional production by David Ian Rabey. It was hard work, but the experience is always beneficial. You never know when an experience can turn into an opportunity for the future or what it can teach you.