Glyn Rowlands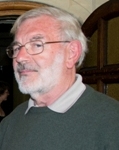 Dr Rowlands' undergraduate and postgraduate degrees in Chemistry at Aberystwyth University were followed by a two year Fellowship at Iowa State University specialising in rare earth chemistry. He continued in a scientific career in both the UK and US Atomic Energy Authorities until the mid eighties.
Having obtained the relevent qualifications, he then switched to marketing and management, eventually becoming MD of Huntingdon Research Centre (now known as Huntingdon Life Sciences). From there he moved on to Medelec, a subsidiary of Vickers, where he gained considerable international experience as MD with special responsibility for making and running International Acquisitions with subsidiaries in the USA, Japan, France, Germany, Italy and Spain.
At about fifty years of age he made another career move becoming a self-employed consultant to the Venture Capital Industry working mainly for 3i and Thomson Clive. He tended to specialise in smaller/high tech companies with his role as Chairman/ shareholder. This led to the development of a company called Homecraft which he grew substantially and eventually sold on to Smith and Nephew.
Latterly, he acted as a consultant for a San-Diego based company specialising in up market thermometry and eventually orchestrated the successful sale of the business. During his time as a student in Aberystwyth, Glyn Rowlands enjoyed playing for the Aber Rugby team. He was also a member of The Elizabethan Madrigal Choir, one of Aberystwyth's main student-run choirs and oldest societies.