Erisa Mukwaba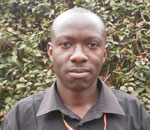 Erisa left Aber in October 2011 after successfully completing an MSc in Managing the Environment graduating in July 2012. Erisa also acts as Aber's unofficial ambassador in Uganda and he is willing to assist any Aber alumnus with locating and/or doing business there. Contact him at uganda@alumni.aber.ac.uk
What do you remember most about your time at Aber?
I remember the beautiful moments that I had around the Old College, especially looking at the lovely Aber scenery which is bordered by the sea and the historic Castle, and the experience of climbing Penglais Hill towards PJM after shopping and chatting with lovely traders and fellow students in Aber town.
What are you doing now career-wise and how has your Aber degree helped?
I currently work for the Ministry of Agriculture, Animal Industry and Fisheries (MAAIF) in the Republic of Uganda in East Africa. My work involves the following duties:
Inspection and Certification of imports and exports of plants, plant products, seed and agricultural chemicals into and out of Uganda in accordance with relevant international and national laws;
Providing advisory services to farmers, agro-processors, transporters, handlers, traders and all dealers in agricultural produce on export procedure and general phytosanitary matters;
Providing phytosanitary and quarantine services to the floriculture industry in Uganda;
Training and guiding District Local Government technical staff on crop protection measures;
Inspecting commercial plant nurseries across Uganda for conformity to set national standards;
Involved in Agricultural Biosafety Inspections in partnership with the Uganda National Council for Science and Technology (UNCST);
Providing agro-ecosystem and general environmental management services to any interested party.
My Aber degree, in addition to boosting my confidence, has helped me to successfully merge my previous knowledge and skills in agriculture with environmental knowledge and skills to contribute synergistically to the global campaign of sustaining the supply of food to mankind from a healthy and safe environment. The access to high quality research conducted at IBERS in Aber was a turning point in my professional and academic life.
What advice would you have for a student doing your course now?
Always listen carefully, pay attention to finer details, manage your time and never hate statistics. Lastly, don't ignore the input from other departments at Aber if you are to maximise the success of your educational programme.