Enrique Uribe-Jongbloed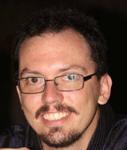 Enrique graduated from Aber in 2013 with a PhD from the Department of Theatre, Film and TV Studies. In addition to his academic studies, Enrique took the opportunity to learn Welsh whilst he lived here.
What do you remember most about your time at Aber?
The good times discussing politics, language, history, music, etcetera with really good friends and inspiring tutors and professors. Those good times took place in the Drwm at the National Library of Wales, sharing a pint at the Cwps, or in seminars and events in the Parry Williams building. Oh, and the sight of the setting sun in the afternoon as seen from the arts centre, that was brilliant.
What are you doing now career-wise and how has your Aberystwyth Degree helped?
I am working as a lecturer at one of Colombia's top 10 universities, as lecturer and researcher. My PhD at Aber enabled me to improve my research skills, and to become part of a larger academic community world-wide. Having learned some Welsh while at Aber, I also learned to appreciate cultures in a deeper way, and that has helped me in my role as International Affairs coordinator within the Faculty of Communications here, at Universidad de La Sabana.
What advice would you have for a student doing your course now?
Someone who starts a PhD needs to understand that it is not an easy task, but a very rewarding one. It takes dedication, a good measure or organization and openness to new ideas, and a fair amount of patience and perspective. I cannot stress that latter point enough. One needs to keep on looking at the goal as a destination, yet remember that it is the journey that teaches us about life. Don't pass up opportunities to join the Postgraduate Association, learn Welsh, discuss local politics, enjoy the entertainment options at the Arts Centre or down in town, and engage in debates about where you come from and how academia works at home. We have much to learn, but also plenty to share.