Elizabeth Ross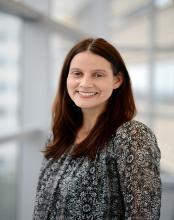 Elizabeth Ross graduated from Aber in 1996 with a BA in English and Drama and went on to obtain her Postgraduate Diploma in Broadcast Journalism from Cardiff University in 1998. She is now Senior Producer at WGBH News in Boston, Massachusetts for the show "Innovation Hub" which airs on national public radio in the United States.
What do you remember most about your time at Aber?
There are so many special memories: studying at a beautiful campus with magnificent views of the sea and hills; developing wonderful friendships at the university and also at St. Michael's Church; doing my very first radio work at Radio Bronglais, the hospital radio station, and later at Radio Ceredigion; trekking up and down Penglais Hill multiple times a day to get to English Literature lectures at the very top and Drama classes way down at the bottom – what a work out.
What are you doing now career-wise and how has your Aberystwyth Degree helped?
I began my journalism career as a BBC Regional News Trainee working in radio and television at BBC Wales in Cardiff. I'm currently based at WGBH News in Boston where I am the Senior Producer for the programme "Innovation Hub" which is broadcast on U.S. public radio.
It was Aberystwyth's international student exchange programme which first brought me to the United States and gave me the incredible opportunity to study for a year at the University of Illinois, Urbana–Champaign which was amazing.
My degree courses at Aberystwyth taught me critical thinking and helped me to develop strong writing and research skills, all of which I use in my field every day.
What advice would you have for a student doing your course now?
Soak up every learning opportunity and experience you can, stay curious and read as much as possible. I really miss the National Library of Wales and all the books that were available there and the patient and friendly staff who helped me find them. Have lots of fun too and be sure to check out some of the great clubs that are offered up at Freshers Week.
Would you recommend Aberystwyth to others, and why?
Absolutely – my time at Aber was a wonderful experience and excellent preparation for all that lay ahead.